Australian Hardware's full marketing report
Introduction
Australian hardware is one of the most reputed hardware companies in Australia. It was established in 1921 in George St Sydney by Percy Green Wright who started to run the store as the family business. The headquarter of this company is in Sydney, NSW. The company got started with the sale of small household furniture. However, the business expanded rapidly from one to four stores across Sydney's northern and western suburbs. With this. Eric Green Wright repositioned the business in the early 1950s by supplying wood and other hardware items.
Article Summary
The main agenda of this article is to enlighten the readers about various business aspects related to Australian Hardware. The article aims to discuss the history and business strategies followed by the company- Australian Hardware. The company was established to provide quality products to the customers in the country and it has various stores in Australia. Further, a discussion on organizational structure of the company highlights that Australian Hardware followed a hierarchical structure. In this, the board of directors and CEO are at the top most positions. Moreover, the company attracts its clientele through markup pricing strategy and differentiation product strategy. Moving further, the article also discusses the external environment analysis of the company with respect to present Covid-19 conditions. Also, the article shows that there is an increasing concern for sustainability among the customers that strongly impacts the business of Australian Hardware. In addition to all this, the various marketing analysis of the company will also be done to give the reader a conclusive view of the present and future situations of the company.
Further, the Australian Hardware became a public listed company in 1982 after getting listed on Australian Stock Exchange. Also, the growth rate of this organization was very high since its inception. This is the reason, Australian hardware has today established a total of 138 stores in the country and the total number of employees hired by this organization is around 10000. This article is written with the aim to analyse the current market condition and strategies of Australian hardware. In this write up, various analytical tools have been used to examine the current market situation of the company.
Mission and vision statement of Australian hardware:
Australian hardware provides best quality hardware, homeware, building material and other material such as garden supplies to Australians. The company is committed to provide quality services to customers and tradespeople. Thus, the company has adopted low pricing strategies and has even taken various initiatives to ensure community engagement, environmental responsibility, product quality and provision of expert services. The vision of the company is to lead the hardware and home-improvement market in Australia in the coming five years.
Not when we write for you!
The case study assignments that you get from college are highly tiresome. This is the reason you look for professional assignment help. In fact, there is no wrong if you wish to unload some of your assignment burden and share it with someone equally capable. We, at Assignmenthelp4me, have PhD subject writers, who can ardently write college assignments for any of your subjects. Whether you have a case assignment on Australian Hardware company or you have any other college assignment, we can do it all. We just need you to take the first step of placing the order, rest is the responsibility of our skilled academic writers.
Organizational structure of Australian hardware
Australian hardware has hierarchical organization structure where each store operates as a distinct business. Following figure shows the organization chart of Australia hardware: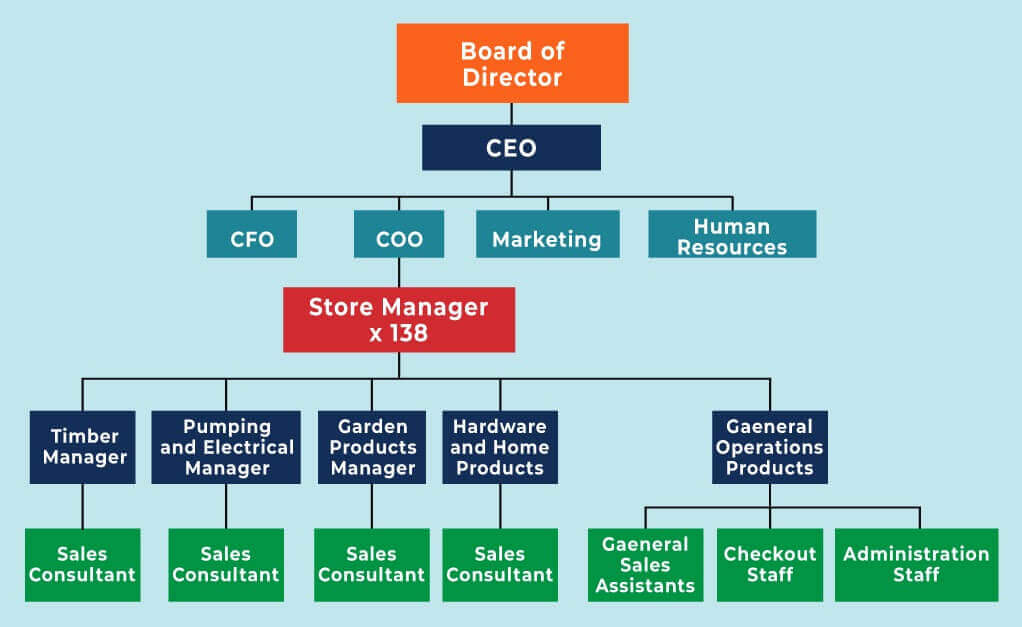 The above figure shows that each store of the Australian hardware has adopted a separate organization structure where each store manager is responsible to manage the overall functioning of the retail stores. Further, separate managerial heads are hired by the company to manage various organizational operations. Also, a large number of sales consultants are hired by the organization to improve the sales at its stores and to deliver quality services to customers.
History of Australian Hardware
Australian Hardware is a company founded in 1921 by Percy Green Weight as Percy Home goods under family business. Further, the business expanded to four stores which had a staff of 60 employees in 1928. During its growth journey, the company faced a difficult situation in 1930 due to the Great Depression and closed down its three stores. However, it managed to sustain and opened a second store again in 1937.
Moving further, to expand the business and save itself from the consequences of World war 2, the company negotiated a deal with Australian Armed Force. This was to provide different equipment such as furniture, cooking utensils etc. which required it to bring changes in the business process. Furthermore, in the 1950s, the company was named as Australian Hardware under its expansion strategy. Also, the company managed to list itself at Australian Stock exchange in 1982. This is how, Australian Hardware slowly and steadily grew its business from 1 to 138 stores all over Australia.
Business strategy
The Australian hardware has adopted various corporate and marketing strategies such as product differentiation strategy, mark up pricing and communication strategies. It has pursued these in order to improve its brand image and reputation in the market. Also, the company has undertaken multi target segment strategies for its products and services. Under product differentiation strategy, Australian hardware provides unique features in homeware, hardware and other building material products, to differentiate itself from its competitors.
Along with this, the company has implemented various advertising strategies with the aim to improve its brand image and recognition in the market. At first, the company offers the lowest price guarantee to its customers through its low pricing and mark up pricing strategies. Further, Australian hardware also provides various discounts and incentives to attract large numbers of customers. Additionally, the company is planning to implement online and digital strategies in order to provide online shopping facilities to its customers. This also helps the company in fetching more sales for its products and services.
Products and services of Australian Hardware
Following are the main products and services provided by the company through its stores:
Timber is the main product which is used for housing and industrial purposes by the consumers.

Hardware products include fittings and fixtures etc. for home.

Premium quality tools and paint of major brands with different discounting options.

Houseware and outdoor products of Australian as well as international brands

Different garden tools such as forks, hedge, rakes, trowels etc.
PEST analysis
PEST analysis is one of the important analytical frameworks that can be used to evaluate the external market factors of this organization. Following points highlight the PEST analysis of Australian hardware: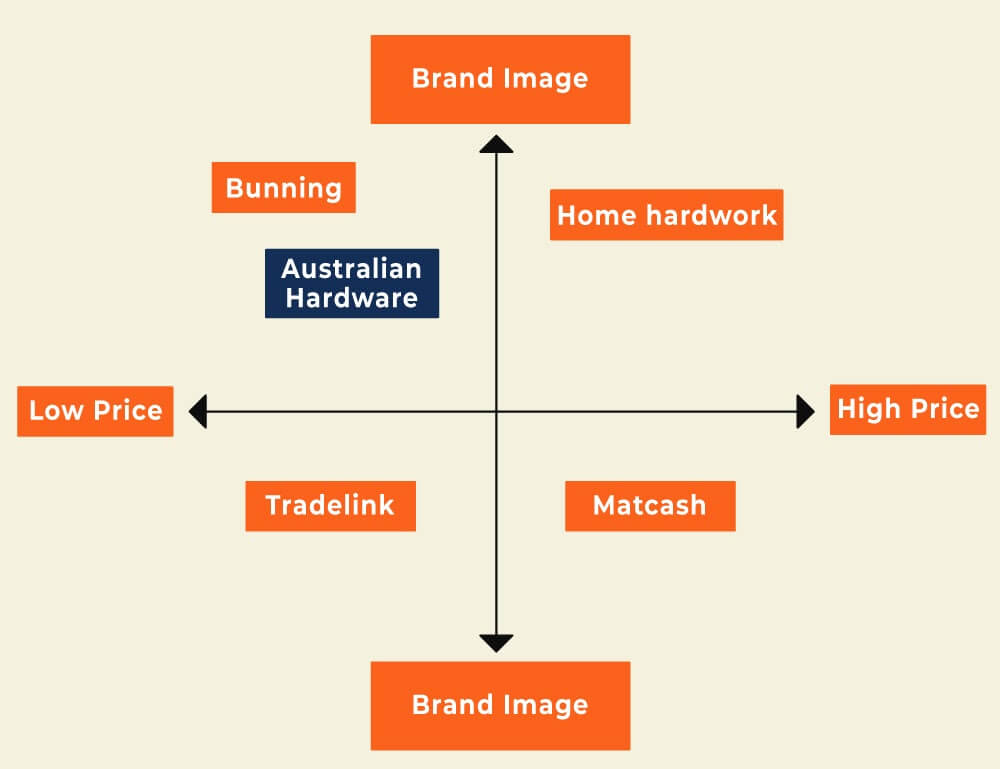 Political factors

Australia has a politically stable environment where the transport regulatory system is followed. Various legislative and regulatory factors such as Privacy Act 1988, Fair Work Act 2009, state-based anti-discrimination Acts, Corporations Act 2001, (occupational health and safety laws, packaging and labelling laws, etc. may impact the working of this organization. In addition to this, Australian government has developed various legislations in response to the impact of COVID-19 on the economy which further may impact the working of Australian hardware. However, the Australian government has a wage subsidy scheme i.e. job keeper payment to help employers affected by COVID-19 which further will be beneficial to Australian hardware in providing wage payment to employees (legislative impacts, 2020).

Economic factor

The hardware and equipment supply retailing industry of Australia amounts to $ 23 billion and there are more than 15000 businesses in this sector. However, the revenue of industry is declining due to the consequences of COVID-19, which has led to lockdown and shutting down of businesses in the country. It has been analysed that this decline of 3.3 percent in the sector where there are weak economic conditions (Hardware and Building Supplies Retailing in Australia, 2020). This decrease in economy and sector may affect Australian Hardware negatively due to decrease in customer demand.

Social factors

There is an increasing unemployment rate in Australia due to Covid 19 conditions and it jumps to 7.1 percent where more than 0.2 million people have lost their jobs (Karp, 2020). This implies a decrease in disposable income in the hands of the population which further results in less demand for hardware goods. Furthermore, customers are becoming more aware of sustainability factors and prefer the products of companies engaged in CSR activities related to the environment and communities etc. Thus, Australian Hardware needs to consider various sustainability factors for having a positive impact on market consumers. In addition to this, it also needs to reconsider its pricing strategies under the current Covid conditions so that customers can be retained.

Technological factors

Technological advancement is taking place at a rapid pace which provides a number of opportunities for Australian hardware in improving its quality of services. In fact, Australian hardware has implemented use of various technologies such as digital marketing and social media strategies with the aim to provide convenient services to customers. However, Australian hardware needs to implement use of better technologies such as contact payment systems, scan and go technology, etc. All this needs to be done in order to enhance customer and employee safety.
STP analysis of Australian hardware company
Segmentation
Australian hardware has adopted multi segmentation strategies in order to establish strong brand image in the market. Following table shows the market segmentation of customers:
| Types of segmentation | Segmentation criteria | Target Market |
| --- | --- | --- |
| Geographic | Density | Both urban and rural |
| | Region | Australia |
| Demographic | Age | 20-60 years of age |
| | Income | Low level to high level income |
| | Gender | Both Males and Females |
| | Occupation | self-employed , business, professionals, tradesperson |
| Behavioural | Benefits sought | Value style, convenience, quality |
| | Personality | Tech-literate, explorer and determined. |
| | Loyalty | Hard core loyal, softcore loyal and switchers |
The primary customer segment of Australian Hardware companies includes both males and females between the age group of 20-60 years of age. Further, the geographic segmentation of the company includes customers in the hardware market in Australia and its products are available throughout the country.
Targeting
Australian hardware provides hardware service, homeware and building material to customers in the market. Further, the target market of the Australian hardware is divided on the basis of three major segments that are tradesperson, Home improvers, owners and managers of the small business. Furthermore, the target market of Australian hardware includes customers between the age of 20 to 60 years.
Positioning
Australian hardware has developed strong brand image in the Australian hardware market for its best quality hardware, homeware, building material and other products. The company provides quality products and services at low prices in order to meet the needs of a large number of customers. Following figure shows the positioning map of Australian hardware: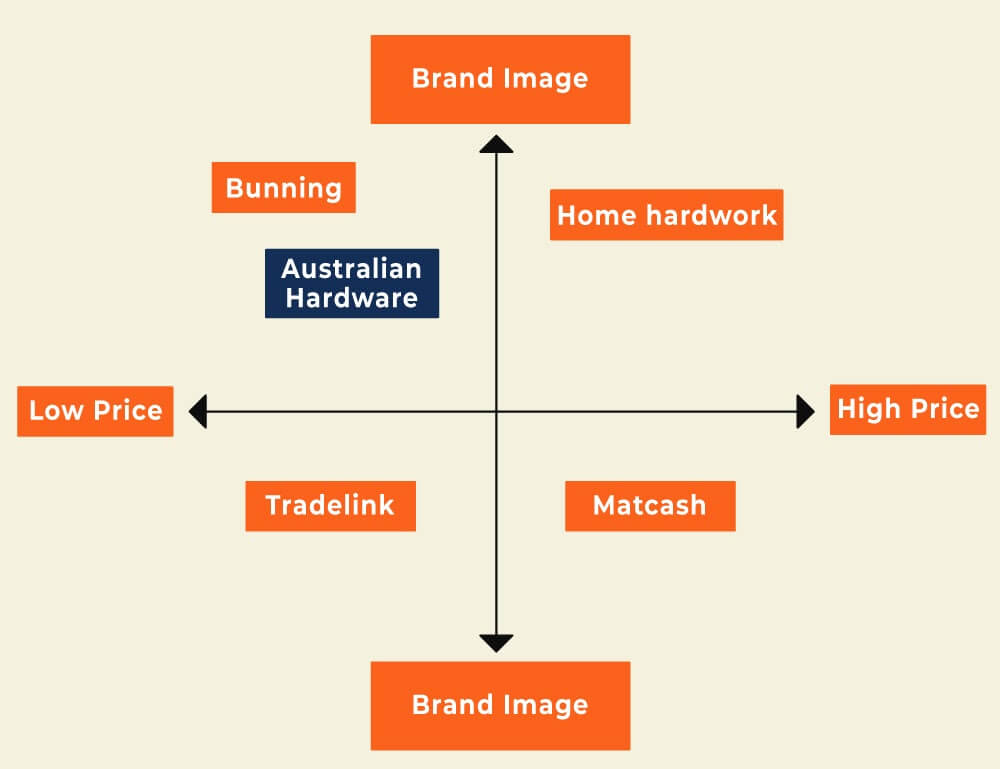 The above figure has helped in reviewing the strategic position of Australian hardware. It can be seen that Australian hardware has established a strong brand image in the market for its quality products and services. Also, it is found that low pricing strategies have helped Australian hardware to maintain its competitive position in industry. However, it is found that Australian hardware as a company needs to further improve its brand image and reputation in the market. It surely requires to work upon these factors to compete with various firms such as Bunning, trade link, Metcash and home hardware.
Competitive analysis
There are many large and small competitors in the Hardware retail industry of Australia who are giving tough competition to Australian Hardware. The large competitors in the market include Woolworths, Metcash, Wesfarmers etc., which have large market share in this industry and are known for providing quality goods and experience to the customers. Further, Bunning is the major competitor among small competitors. This company is known to provide different consumer goods at lower price to the company and it also enjoys high brand recognition.
Further, the other competitor companies such as Home hardware and Trade link also offers a wide range of hardware equipment to Australian consumers and are known for reliable quality. The main elements of competitive advantage in the market is access to the customers and for this, most of the companies use Ecommerce platforms such as online websites etc. to reach wide customers. Australian Hardware also plans to initiate online presence and it already has a wide customer access through its 138 stores.
SWOT Analysis
| Strength | Weaknesses |
| --- | --- |
| Wider market coverage. | Lower customer loyalty |
| Differentiate products offerings with high innovation and quality. | Lack of market awareness |
| Strong brand image in Australia. | |
| Strong financial and marketing budget. | |
| Opportunities | Threats |
| --- | --- |
| International expansion opportunities. | Threat of new market entrants. |
| Opportunities to build relationships with global suppliers. | Intense competition in the market. |
| Opportunities for products differentiation and innovation. | Recession in the country and economic environment change impact business. |
| Opportunity to create a new customer base and strong market potential. | |
Conclusion
The given article has provided detailed discussion on products and services, market customers, competitors and market situation of Australian Hardware companies. It has been clearly mentioned that the company follows a hierarchical organisational structure to control all its functions. Also, it provides diversified products to the Australian customers. Further, it has been described through PEST analysis that the company is under influence of decreasing revenue of industry and increasing restrictions due to Covid 19 conditions. Also, the customers of the company include all Australians with low to high income levels. Moving on, it has been recommended that the company should improve its marketing and online presence to deal with competition in the market.
References
Hardware and Building Supplies Retailing in Australia. (2020). IBISWorld - Industry Market Research, Reports, and Statistics. Retrieved 14 July 2020, from https://www.ibisworld.com/au/industry/hardware-building-supplies-retailing/1877/
Karp, P. (2020). Australia loses 227,000 more jobs, taking unemployment to 7.1%. Retrieved 14 July 2020, from https://www.theguardian.com/business/2020/jun/18/australia-loses-227000-more-jobs-taking-coronavirus-unemployment-to-71
Australian Hardware. (2020). About Us. Retrieved 14 July 2020, from http://australianhardware.simulations.australiantrainingproducts.com.au/australianhardware.simulations.learn.com.au/about-us.html
Chatterjee, M. (2020). COVID-19: Role of technology in smooth resumption of retail - Indiaretailing.com. Retrieved 14 July 2020, from https://www.indiaretailing.com/2020/06/02/retail/covid-19-role-of-technology-in-smooth-resumption-of-retail/
legislative impacts. (2020). Understanding legislative impacts in Australia during COVID-19. Retrieved 14 July 2020, from https://www.safeguardglobal.com/resources/blog/legislative-impacts-in-australia-covid19
FAQ
What is Australian Hardware?
Australian Hardware is one of the most respected and renowned hardware companies in Australia. The company got established in 1921 and is headquartered in Sydney, Australia.
What organisational structure does Australian Hardware follow?
Australian Hardware follows a hierarchical structure of organisation management. While following this structure, it makes sure that all its stores operate as distinct functionalities.