E- Healthcare and My Healthcare Record System Details
---
Introduction to E-Health System
The E-healthcare system can be viewed as an emerging field that makes use of information and communication advancements in the healthcare domain. This is done to facilitate enhanced healthcare services to the customers around the world. In broad terms, it could be inferred as a network that aims at delivering improved health services to the patients using ICT technologies. The healthcare opportunities brought in by these advanced ICT technologies assists healthcare organizations to harness the potential benefits that could be thrived with its utilization.
In the term, 'e-health', "e" does not signify electronics rather it has several other implications. These are popularly known as the 10 E's in e-healthcare systems and are explained in the section below.
Article Summary
The advantages of the healthcare system have grown manifold with the services being transmitted to the online platform. Additionally, the e- healthcare system allows the patient as well as the doctor to access the information remotely. Along with this there are many benefits provided by the e- healthcare system to its users. Further, the facility of My Health Record is yet another factor, which helps the patient to save and organise his health data. This article describes these developments in a very detailed manner and allows its readers to understand the concepts in depth.
The 10 E's
Enhanced Quality

Through this healthcare framework, enhanced quality of services could be offered to the patients with reduced cost (Peters, 2020). This system guides patients to the best quality suppliers.

Efficacious

It is a promising framework that aims at increasing overall efficiency of the healthcare sector. This efficacious framework enables active communication between patients and health service providers. This leads to a reduction in extra cost for diagnosis.

Equity

Equitable access to this system must be assured by political organizations (Bray & Mihm, 2020). As, lack of skills could be a major issue which may cause a hindrance in the proper utilisation of this system. Therefore, it is the responsibility of the political organizations to assure that every patient has adequate access and is able to fully harness its perks.

Empowerment

The system empowers patients by offering them patient centric medicines and care. Also, the patients can easily access their health records online with the help of e- healthcare systems. This further helps in the expansion of the patient's knowledge base as they can anytime access the data online.

Education

It refers to the knowledge or skills that patients and physicians gain from different online resources. It can even include the videos or written documents with respect to the health record.

Ethics

It signifies ethical concerns that must be taken into consideration with view of this new communication medium between patients and doctors. Also, it may raise some ethical issues such as equity and security concerns.

Extending

It implies the scope of this healthcare system that may vary as it can be used to access information from anywhere in the globe. Also, at the same time it can be employed for simplifying complex tasks as well.

Evidence Based

There must be scientific evaluation performed for reaching particular conclusions. There should not be rigorous decisions made for any issue identified.

Encouraging

It is an encouraging framework that develops new relationships among the hospital organization and patient. It will assist both the ends in taking a shared decision.

Enabling

It enables easy exchange of information over the internet with the use of cogent ICT advances. In other terms, it facilitates users with standardized methods for information sharing among patients and healthcare organizations.
Advantages of E-healthcare system
E-Health system is a developed field that uses technological advancements for delivering better services to the patients. It aims at making the patient record available on the internet in a way that it can be easily accessed from anywhere in the world. The primary aim behind utilization of this efficacious framework is to assure easy exchange of data which was not possible in traditional healthcare systems. There are many potential gains that can be drawn with its execution. This is the reason, most healthcare organizations seek to incorporate an e-healthcare system within their organization. The advantages of e- healthcare system incorporate the following points:
Potential Advantages of E-Healthcare Systems
The system is highly cost effective as it makes use of advanced ICT technologies which reduces additional cost involved in patient's treatment and diagnosis. This is because the patients can easily communicate with their prescribed physicians cutting extra costs.

Through the available healthcare portals, patients can manage their day-to-day activities. This allows them to save their time and extra cost for fixing an appointment with their prescribed doctors.

It covers numerous other perspectives that may incorporate systematic access to the clinical health records, telemedicine and various other interventions.

Patient's medical records stored can be easily accessed anywhere with which patients can get easy insight to their health conditions. They can even share these online documents with any doctor they wish. This eases the flow of communication and allows a technically smooth transition of facts between the doctor and the patients.

If doctors need to share the patient's medical report with any other clinician then it could be done in an effortless manner. Also, this reduces paperwork that is involved in different procedures by automating all relative tasks.

Utilization of this framework will provide enhanced quality of services to the users as there will certainly be less number of medical errors. Further, it facilitates improved decision making due to clarity of medical report representations.

This promising system intends to bring online business to the healthcare domain as it encourages users with better e-healthcare services (Adhikari, 2020).
Why not leave the non- interesting ones on us!
Place your assignment order right now!
All the IT assignments you get from college are mandatory to submit back. Thus, you are always in pressure to write your college assignments. Many times in hury, you tend to lack perfection and miss out on deadlines. Therefore, we at Assignmenthelp4me, are always available to draft your assignment help. We have a team of adept academic writers, who excel in writing your college assignments in an absolute manner.
Disadvantages of E-Health System
Although, there are many benefits that are drawn with the implementation of e-healthcare framework, still there are certain drawbacks too. The primary challenges or limitations of using an e-healthcare system are elaborated in the section below:
Major Drawbacks of E-Healthcare Systems
The procurement cost is too high which is why most often organizations do not prefer to implement this system in their organization.

It requires uninterrupted internet connection on both the sides for effective exchange of information. Therefore, any lack of internet connection may result in inconvenience for its usability.

It is already known that a patient's record will be stored onto an electronic database, therefore it imposes a huge threat to the privacy of a patient's medical information. This is because the online systems are highly vulnerable to network breaches such as phishing or cyber assaults.

Apart from its initial set up cost, it requires an additional cost for providing training to the staff members for utilizing the system in its absolute way. Otherwise, it may prompt certain serious issues.

Also, the information contained in the electronic database system needs to be regularly updated. This is because of the fact that decisions are evaluated on the basis of the stored medical record. Therefore, it might raise certain health issues in case some wrong information is updated or some facts go missing.
Role of E-Health Record System
An Electronic Healthcare Records system is an electronic medium of storing patient's medical information which could be retrieved by healthcare professionals at times of need. This electronic collation generally contains information about patient's medical records including their medical history and diagnosis reports by their respective physicians.
The major role played by this EHR is that it eliminates the need of carrying physical documents. This system plays an integral part in providing enhanced services to the patients as it allows easy exchange of data among multiple healthcare providers. It also benefits the patient by allowing him to share his test reports with the best practitioner anywhere in the world.
The primary objective of this electronic health care system is the easy management and sharing of information across multiple health organizations. The data stored in digital format can be easily retrieved and modified which makes it easier for health organizations and users to streamline their workflow.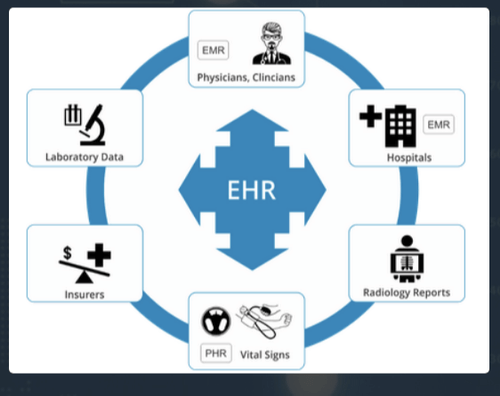 There has been a substantial increase in the adoption of electronic record systems by healthcare organizations in the recent years. This is because of the awareness of potential capabilities of the electronic healthcare system among patients and healthcare organizations. In most of the cases, government organizations try to provide its users with adequate facilities to promote the use of these advanced ICT capabilities. With the assistance of these IT enhancements, it is convenient to deal with the customers and health professionals in an effortless manner.
What is My Health Record?
My health Record is an online system that stores medical information of a patient and his medicines prescribed by doctors. It also includes medical records, prescribed treatment, diagnosis history and evaluation results. The primary motive behind its use is to facilitate easy track of information, both for the patient and the doctor. Additionally, this information is placed at a centralized location and it can be accessed by only authentic healthcare professionals.
It implies that even if a user migrates from one city to another, he can still gain access to his medical information. He can do this with the help of an internet connected device, which can either be a computer or laptop. Through this effective 'My health record' system, doctors can have clear insight about the patient's medical condition. Also, it helps them gain knowledge about their patients prescribed medications, allergies which they might have, test results conducted during medical treatments and various other related information.
Basically, it is a convenient way of storing medical information of the patients which is allowed to be accessed only by authorized users. With this mechanism, doctors can have a complete track of their patient's medical records which could be used over time. Further, it is imperative to understand that 'My Health Record' does not aim to substitute the already existing medical records. Rather it aims to provide an effective medium for sharing patient's information for delivering enhanced quality of services along with improved decision making.
Many Australian health care organizations are already utilizing 'My Health Record' System. This is the main reason for their progress in the healthcare field. Also, due to their adoption of the latest facilities inside and outside the organisations, its clients feel privileged and personally attached.
Let us help you! Just place an assignment order.
We at Assignmenthelp4me, assure to assist you with the best professional help.
There is no denying the fact that assignments are a great way to learn about the concepts of the subject. This is the reason your professors give you so many assignments as homework. However, too many assignments burden you terribly, which is why we offer online assignment help to you. With our professional writing services, you can not only lower down your stress levels, but also attain high scores in your college assignments.
Uses of My Health Record System
With the use of 'My Health Record', a health organisation can fully transform the ways its services are rendered to its patients. Additionally, with a centralized system, even if a user changes his state, he can gain access to his medical records. This online record system is definitely convenient for the patients, in cases when they want to share their reports with other healthcare professionals.
Moving further, the online health record system supports the doctors in providing better consultation to their patients. There are different ways in which My Health Record system could be of use to several entities. Following are the applications for which it could be used:
My Health Record could be very beneficial at times of emergency. Also, in emergency situations, it facilitates the doctors with a quick view of his patient's medical history along with other medical reports. This systematic and highly convenient mode aids the doctor in providing.

By having access to a patient's complete medical record, the doctors get to know the details about various allergic issues, recommended medicines along with blood tests and other test evaluations. These all details can prove really helpful while prescribing medications to the patient in concern.

The use of 'My health Record' system has reduced test duplication. This means that patients can avoid the repetition of tests which he has got recently done. The online availability of the prior tests saves him from wasting time as well energy in the duplication of the same test.
Benefits of 'My Health Record'
Innovation drives positivity and most importantly it can imbibe a positive work culture at a place where it is used efficiently. The following section features potential advantages of this system:
Benefits of using My Health Record
The usage of my healthcare record will provide assistance to the organization for providing better health care to its users. Many Australian health organizations have already incorporated My Health Records in their system. This technology is helping them harness great benefits. Thus, in this manner, it is able to offer advanced health services to its users.

Also, the users can have full control over their 'My Health Record', as they are the sole decision makers who may or may not grant access to their personal medical details. It is up to them with whom they want to share their information.

My health record system is highly secured from network assaults as it is a multi-layered framework. It also makes use of highly secured mechanisms for ensuring that client's medical information is safe. Moreover, it uses encryption algorithms along with audit logging and firewall systems. Not only this, there are certain rules and regulations defined for using these records which otherwise might get compromised.

As the information is made centrally available through the 'My Health Record' system therefore it can be easily accessed by physicians and hospital management staff. This implies that information does need not to be gathered from different sources as necessary information is included in the system itself

The medical record information stored in My health record is very beneficial in making effective analysis of the patient's condition. Eventually, this lays a huge impact on the decision taken by the doctors and the physicians.

Through the use of this system, users can request doctors or physicians to not share their highly crucial information with other entities. This sensitive data may contain information regarding HIV status, illness and other surgeries which users may not feel comfortable in sharing with other parties. As discussed earlier, the user is free to decide who can have access to his personal health details.

The central database stores all medical records of patients. This signifies more transparency of information thus enables easy accessibility of information by health care organizations.
How to use 'My Health Care' Record?
The data stored in 'My Health Record', can be easily accessed by authorized healthcare professionals that may include physicians, doctors and other hospital managerial staff. Further, the access to this medical information can be restricted by assigning a privacy pin. There are certain steps that one must follow in order to use 'My Health Record' system.
Step 1: User must Login

The first step requires the user to sign in his account through myGov page. If an account already exists, users may enter username and password. Otherwise, users need to create an account.

Step 1: User must Login

The first step requires the user to sign in his account through myGov page. If an account already exists, users may enter username and password. Otherwise, users need to create an account.

Step 2: Granting access roles

The user can restrict certain documents from getting accessed by the healthcare providers who may unintentionally share some sensitive information for further reference or discussion. The user can also remove certain parts of documents so that no one can have a view of it.

Step 3: Information Management

Users can manage the information present in the record and can also define who can have access to the information. The information further assists the reader in taking informed decisions.

Step 4: Additional Information to be added in the medical record

In case new tests are done on the patient then they can add the results of the test in the medical records. This allows the patient to save a detailed record of his health. Further, it is important to know that the additional information is not replaced by the existing data; rather it gets stored along with the previous data.

Step 5: Record utilization

Once a user has built his online health record system, the next step is to change the settings of the user account. This is done to personalise his account and make sure that no one can make unofficial use of his personal health details.
Conclusion
The world has seen considerable developments in the recent years. The progressions in the healthcare system is one aspect which has given rise to the standards in the facilities provided to the patients across the world. E- healthcare system has certainly proven to be one such development which has provided a lot of ease to its users. More than that the personalisation facilities provided by the My Health Record System make it really convenient for the patients to save and record their health data. However, the privacy of all this data is really important to be kept safe for which the respective healthcare organisation needs to ensure the execution of important safety measures.
FAQ
How are electronic health records used in healthcare?
Electronic health records are a vital part of the health system that contains a patient's medical history, medications, treatment plans, radiology images, test findings, etc. The electronic health records help to make various decisions about patient care and to improve the quality of healthcare.
What are the four main components of a fully developed electronic health records EHR system?
The four main components of the electronic health records include electronic health information, electronic access, knowledge and decision-support and efficient processes needed for improving health care delivery.
Who uses electronic health records?
The electronic health records are used by various health care providers and organizations such as laboratories, specialists, pharmacies, emergency facilities, medical organizations, etc. to improve the safety and quality of healthcare and to conduct research on health practice.