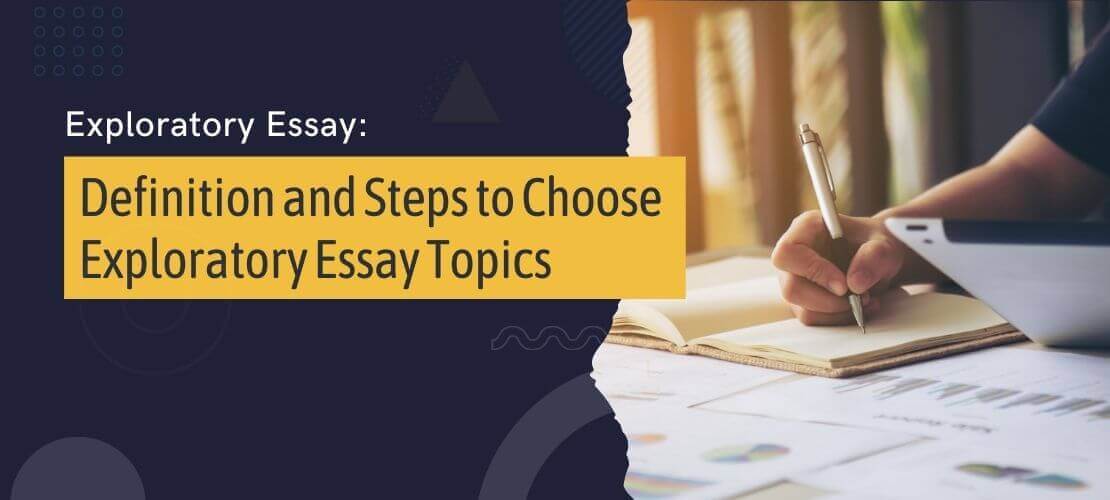 Easy steps to write an Exploratory Essay for college
What is an Exploratory Essay?
Remember that, exploratory essays are extremely different from your usual argumentative essays. In other words, these essays are totally varied from any other kind of essay. In this particular type of essay, your aim is not to convince the reader or you don't have to focus on the relevancy and validity of the thesis you are adding, instead, your objective should be to learn about a particular issue in order to come out to an effective conclusion.
Writing these types of essays will reflect your intellectual and writing skills by means of a specific problem. This is a major reason that most of the students ask, 'who will write my essay'. This query is very well-answered by expert essay writers. During the academic years, you will be assigned a number of essay writing tasks. For that, it is necessary for you to learn and know the structure of an exploratory essay. Apart from that, it is highly essential for you to learn how to choose exploratory essay topics. Yes, this may be considered as the hardest part of the writing process because it covers a wide range of matters.
How to Choose Suitable Exploratory Essay Topic?
Are you assigned the task of completing your exploratory essay? If so, choosing an appropriate exploratory essay topic is what that you must do in order to begin with your exploratory essay.
In order to choose the right exploratory essay topic, you need to go through various exploratory essay ideas. Following the below-given steps to select the relevant exploratory essay topic.
Consider Your College Subject
The foremost thing that you must do at your end is to read the essay writing guidelines provided by the professors. Keep in mind that choosing, 'Explain the Benefits of Daily Exercise' is definitely not a suitable exploratory essay topic, if you have been asked to write on the political issue. So, it is important for you to choose the topic that is right in terms of the guidelines provided by the professor.
Choose Broad Category Outline
If you are assigned with the exploratory essay topic, then you simply have to write on the topic provided. But, if you are not provided with the topic, the first thing you need to do is, to begin with a wider subject. You can choose any one of the common problems that are discussed in your routine lives. The following can be taken into consideration while choosing good exploratory essay topics:
Business
Sports
Culture
Entertainment
Family Life
Healthcare
Politics
Technology
All the above mentioned categories are very wide and thus, you can choose an exploratory essay topic that is relevant and comfortable for you to work on the essay in the required manner.
Search for Common Subjects in that Particular Category
Once you have selected the broad category from which you will choose the topic for exploratory essay, next there is a need to look for the widely used subjects in it. Say for instance: you have selected 'technology' as a wide category within which you need to select the best exploratory essay topic. For that make a list of exploratory essay topics that you found relevant in every aspect. Think of the subcategories that could be there. Some of these may be:
Social Media
Internet
Artificial Intelligence
Smartphones
Virtual Reality
So, you can choose any of these good exploratory essay topics as one of the groundworks for your exploratory essay.
Taper the Chosen Subjects – Select the Best
After you have chosen the broad category and have prepared a list of exploratory essay topics, simply revise the list. Perform proper research on each topic and select the topic you are comfortable with. Say for example you are familiar with the internet and its working, don't hesitate in choosing it as your exploratory essay topic.
Finally - Choose the Title of the Essay
So, finally, you need to stick to a topic and prepare its title. Take into consideration the category that you have selected such as social media or technology for your exploratory essay topic. Go with the title on which you can easily perform research and find relevant information for your essay. After doing all this, you will ready with the best essay topic to proceed with the essay writing task. You can choose to avail online essay help in order to get a proper list of the exploratory essay topics for college students.
FAQ
What is an explanatory essay?
An explanatory essay is the one in which you present your opinion on a particular thing, event or situation. Along with this, these essays are also used to describe a particular process such as changing a flat tyre. Further, in simple terms, we can say that explanatory essays are used to explain something to the readers in an easily understandable and clear manner.
How do you write a thesis statement for an exploratory essay?
To write a good thesis statement for an exploratory essay, you have to keep two things in mind. First of all, the thesis statement should describe the theme of the essay. This implies that it should give the readers an idea of what the exploratory essay is all about. Secondly, the thesis statement should also elaborate why the essay is important for the readers. It is this awareness which stimulates the readers to read your essay further.
How do you start an explanatory essay?
The purpose of an explanatory essay is to explain a particular topic or point of view in the form of an essay. One should begin writing an explanatory essay by showcasing a neutral view on the topic. Further, the purpose should be to explain the context not to persuade the reader.