Boost juice marketing plan (STP and 7 Ps) and recommendations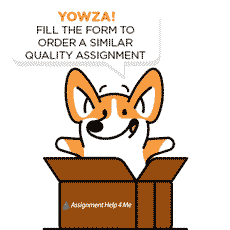 Table of Content
Introduction
Boost juice is an Australian retail organisation founded in march 2000 by Janine Allis. Boost juice is specialized in various fruit and vegetable juice. The first store of the company was established in Adelaide and the founder of the company evaluated the taste and preferences of various consumers. The company in current times sells its fruit juices at the global level. Also, the stores of the company are available in Asia, Europe, India, South Africa and UK. The main mission of the company is to provide healthy and fresh fruits and vegetable juices to consumers. Along with this, Boost juiced also supplies smoothies to customers at various locations. Currently, Boost juice has more than 450 stores located in number of countries. Detailed review of marketing actions of boost juice has been conducted in this report to evaluate the marketing position of company.
The article provides the information regarding the business and market analysis of a reputed organization Boost Juice located in Australia. The detailed review about 7Ps, which have been adopted by Boost Juice for enhancing its competitive edge is also given in the article. The end section of the article provides some recommendations that would help Boost Juice in enhancing the business productivity effectively.
Boost juice market analysis:
he first juice store of Boost juice was established in Australia. The fruit juices market in Australia is growing at rapid pace. There is rising demand of fruit juices in the industry with higher acceptance of fruit and vegetable juices by Australian as compared to the traditional flavored juices. However, there is huge competition among various manufactures of fruit juices.
Also, there is increased awareness among Australian about various health conscious fruit juices and no preservatives or added sugar is added in manufacturing of these juices. Along with this, the fruit juice industry is grown at the annual rate of 3.3 % from 2014 to 2019 and is expected to increase at an annual rate of 7.5 % over the next five years (Juice and Smoothie Bars industry trends, 2019). Boost juice has gain larger market share for its juices and smoothies in Australia and has dominated the fruit juice industry over the past five years. All other firms in industry are operating much smaller scale than boost juice industry (Juice and Smoothie Bars, 2019).
The main competitors of Boost juice include firms involved in selling various drinks and fruit juices. Mc Donalds, Wendy, Donut king, juice works, V8, la juiceria and other retail stores selling various other drinks such as Woolworths and ALDI are main competitors of Boost juice. However, boost juice by providing differentiated and unique products has gained huge competitive advantage in juice and smoothies industry ("Target market and Main Competitors", 2019). The company aims at providing healthy, better, nourishing and nutritious products for body. Further, the following figure shows the sales of various juice and beverage firms operating in the industry: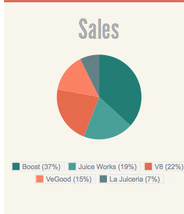 Boost juice marketing STP:
Boost juice deals in various fruits and vegetables related products such as energy drinks, protein drinks, snacks, smoothies and other drinks made from fruits and vegetables (Juice, 2019). The major focus of the company is to provide quality and differentiated products to customers. The various flavors of fruit juices of Boost juice include immunity juice, wild berry juice, mind juice, energizer juice etc. (Juice, 2019). Market segmentation helps boost juice to identify its target market and offers various product to consumers according to their needs and preferences. Following is the detailed review of marketing STP strategies of Boost juice
Segmentation:

Boost juice uses market segmentation strategies to divide the large base of its customers in smaller segments and to provide them with the quality products through distinct marketing programs and strategies. Boost juice has geographic and demographic segmentation strategies to segment its customers and to meet the needs of each segment in most effective manner. Boost juice supplies its juices and smoothies to customers at global level. however, the major operations of the company are in urban populated and coastal regions. Further, the company is demographically segmented on the basis of age and gender of its customers. The customers of boost juice include customers of around 15 to 35 years old.

Targeting:

The major target market of boost juice include various teenagers and health conscious customers. Boost juice offers various healthy and nutritious juices to customers to promote healthy lifestyle. Thus, it has been identified that boost targets young and youthful customers. Further, boost juice offers diverse range of drinks both for males and females such as gym junkie and raspberry relief ("Target market and Main Competitors", 2019).

Positioning:

Boost juice has achieved leading position in beverage industry by providing various quality, differentiated and unique fruit juices to customers. Following figure shows the product positioning map of boost juice: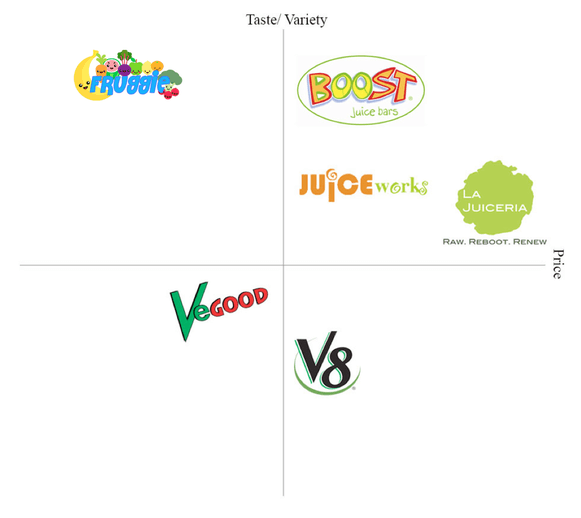 From the above figure, it has been identified that boost juice offers taste and variety features in its products to customers at reasonable prices. However, it has been identified that fruggie offers good taste and variety products at prices much lower than Boost juice.
Boost juice marketing mix:
The core concept of marketing strategies of boost juice aims at gaining larger market share and sales of various products. Following is the detailed review of 7Ps adopted by Boost juice to enhance its competitive advantage in the industry:
Product:

Boost juice offers diverse range of fruit juices and smoothies to customers at its retail stores and bars. The main focus of boost juice is to maintain the quality and taste of its products by ensuring that no preservatives or artificial flavors are added in number of products. The smoothies offered by Boost juice include various natural ingredients.

Price:

Boost juice has adopted low pricing strategies for its products to attract larger customer base and to gain larger share of market. Boost juice also aims at competing with various other firms operating in the industry through various low pricing and competitive pricing strategies.

Place:

Boost juice has gained larger share in fruit juice industry in Australia by opening up number of retail stores in Australia. Also, the company has gained larger share for its products in global market by adopting franchising strategy.

Promotion:

Boost juice also has adopted number of promotional strategies such as television, radio, social media campaigns, email marketing etc. to create awareness among customers for its healthy and differentiated products. Along with this, Boost juice ensures that effective services are provided to customers which further helps in promoting brand reputation in industry.

People:

Boost juice has hired various experienced and trained staff members to provide effective services to customers. The people of boost juice include employees and management team of the company. Human resources of boost juice helps in providing exceptional services to customers.

Process:

The operational processes of company helps in resolving various complaints of customer's in few minutes. Boost juice also ensures that quick delivery of products are provided to customers. Along with this, various initiatives have been taken by boost juice to reduce response time to various complaints from customers.

Physical evidence:

Physical evidence helps customers to evaluate the services and products of company on the basis of some cues and material information. The physical evidence of Boost juice includes various online reviews and stories that helps customers' in evaluating the products of company. Further, boost juice also promotes its goods over various social media sites and its own corporate website.
Boost juice marketing strategy analysis:
The marketing strategies of boost juice include various low pricing strategies that helps in gaining larger customer base in the industry. Further, boost juice has adopted number of competitive marketing strategies to ensure that innovative and differentiated products are offered to customers. Also, Boost juice has adopted both below and above the line strategies to promote its products among customers.
Recommendations to boost juice:
Boost juice has gained huge reputation for its products in the market. however, it has been identified that Fruggie still has lower price policies than boost juice. Thus, to improve the marketing and strategic position of boost juice, some of the recommendations have been developed for the company:
Boost juice should increase its products portfolio by adding various other items in its menu such as sandwiches, coffee and other products.
Boost juice should open number of new retail outlets at various traffic locations such as near the colleges, beaches and market areas.
Boost juice should also adopt various HR strategies to provide training to its staff members and to create ethical work culture in the organization.
Boost juice should also install various technical advancements to increase its performance and to offer quality produce to customers.
References