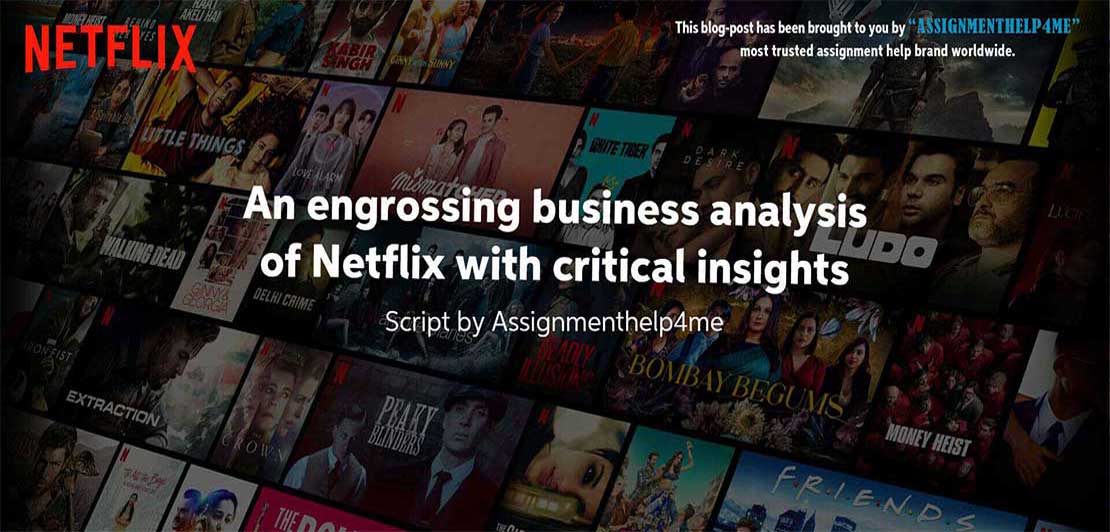 A diligent and precise business assessment of Netflix
Isabelle Taylor | 26 Mar,2021
Netflix and its history
Netflix is an OTT (over the top) content platform that provides online streaming services for subscribers. It is an American production company founded in the year 1997 by Reed Hastings and is headquartered at Scotts Valley in California (BUTLER, 2020). The company provides online streaming services of an ever-increasing pool of movies, web series, documentaries, and other forms of digital content which are either produced in-house and by other producers. Moreover, it has been analyzed that the company reached 203.7 million subscribers during the year 2021 (About Netflix, 2021).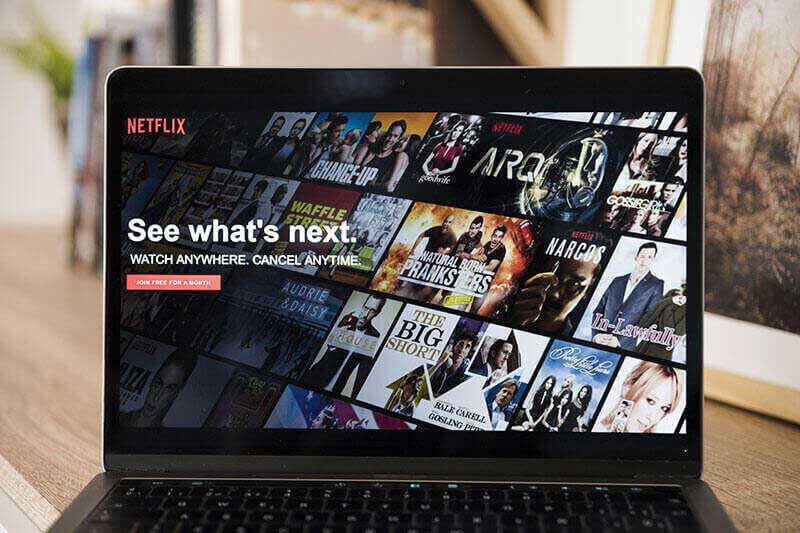 Furthermore, elucidating on the history of Netflix, Reed Hastings founded Netflix along with his colleague Marc Randolph at Pure Software where he used to work earlier and they started it as a flat rate movie rental by mail service for the customers. At that time, he wasn't sure about the success of the company or about the subscribers for this service in the US market (About Netflix, 2021). However, the company got subscribers in its initial time of incorporation and it started growing gradually. Further, Reed Hastings started engineering innovation practices under which he also managed employee culture for innovation management. When the company finally started receiving attention in the market, the Netflix model shifted from a mail server to internet television services where the company launched its video streaming service in the year 2007. Today, Netflix service is provided in every country over the world except China, Syria, and North Korea due to political reasons.
Probing further, Netflix started with a cash investment of $2.5 million. Hastings and the co-founders of the company started it with a concert of renting DVDs which were recently launched at that time. The company started with 30 employees and 925 titles available for DVD rental stores at that time and the rents or due dates were similar to that of the blockbuster (BUTLER, 2020). Further, Netflix introduced monetary subscriptions in 1999 and dropped the single rental model. This was the time when Netflix started winning accreditation in the market for its flat-rate service without due date and late fee charges. The company earned 300000 subscribers in the US during the 2000s (McFadden, 2020). The company also faced some losses because the delivery of DVDs depends on the US postal service and thus, the company offered to acquire Derby Blockbuster but they declined the offer. Soon after that, Netflix experienced growth but it was adversely impacted by attacks in the US and the company had to lay off its employees due to loss of sales. However, the company hoped to expand its business due to the increasing sale of DVD players in the market at affordable rates, and thus, Netflix started selling DVDs as gifts during Thanksgiving and Christmas which led to huge subscriptions in 2002 (BUTLER, 2020). The company posted its first profitable year in 2003 where it earned $6.5 million in profits and the business started expanding after that. However, the company was also accused of misleading advertisements related to one-day delivery, etc. during this time.
Moving further, the company became successful in the US and it is reported that it mailed around 190000 discs each day and the number of subscribers of the company reached 5.6 million during 2006 and then to 14 million during 2010 which speaks for massive growth. Under the fast growth of the DVD player market in the US, it became difficult for brick and northern retailers like Blockbuster to compete. The company started its online sales for DVD rentals and also became the largest source of internet streaming (McFadden, 2020). Further, Netflix made business model changes to separate the DVD business from online streaming and after that, it eliminated the DVD business due to improved sufficiency of the internet to download movies. The major focus of Netflix was then on online streaming services and in 2013 it reached 2 million subscribers and the revenue of the company also increased by 8%. Consequently, it started expansion in new countries at the global level in the same year where subscribers increased to 40 million and in 2014, the company had its services in around 40 countries. It has been analyzed that the company became the biggest online video subscription service in 2018 when it reached 137 million subscribers. This is the time when Netflix started producing original content (About Us, 2021). The company reached $100 billion in market cap in 2018 as an entertainment company. Recently, the company got the huge benefit of global pandemic COVID-19 where the business houses were closed and people were under lockdowns and meanwhile the company acquired 16 million new subscribers in 2020 (Shahidi, 2021). According to Statista, the revenue of Netflix in 2020 (quarter 4) went up to USD 6644 million as against USD 5467 in 2019 (quarter 4). The following graph illustrates the incremental revenue of Netflix over the years.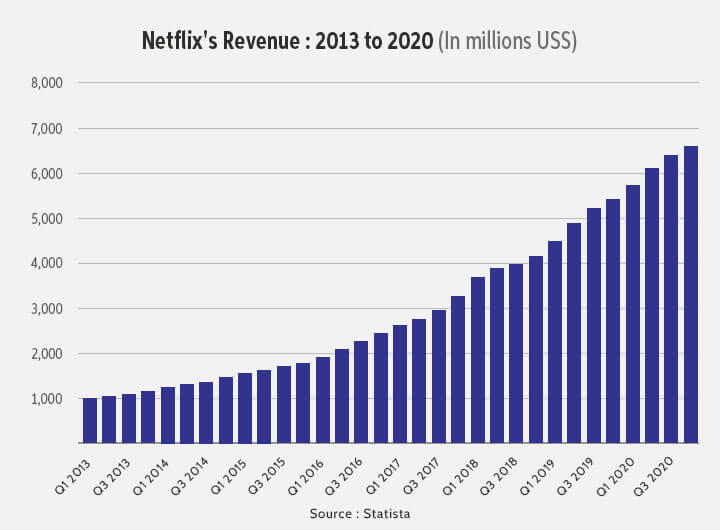 Netflix mission and vision statement:
A meticulous analysis of the vision and mission statement of Netflix shows that it has the vision "to become the best global entertainment distribution service". This vision shows that Netflix aspires to become the best through an incessant growth of its services and also through providing the best content to users (Netflix Mission Statement, 2021). Further, it wants to create a global presence through customer-oriented services for which the company not only focuses on its global establishments but also internal culture and diversity to strengthen its business to accommodate all backgrounds which also ensures intriguing diversity in the content produced by Netflix. Based On this vision, the mission of Netflix is to entertain the world by facilitating the best services to customers and at the same time, adding value to its suppliers and investors by sustaining profits. This mission statement also involves attaching more value to employees by maintaining an innovative and inclusive culture. Under this mission, the company wants to deliver value-driven experiences to its customers by delivering new content and exceeding their expectations. In order to work on its vision and mission, the company has adopted salient core values of inclusion, innovation, curiosity, integrity, communication, etc. (RIVERA, 2021). The core values help in smooth operational flow to achieve the major goals of the company.
OTT, Tech, and media industry analysis and future
The OTT market is undergoing a paradigm upward shift as more and more people are switching to the range of OTT platforms. No longer are people much interested in watching movies in multiplexes or renting DVDs to watch digital content. With the passage of time, the bandwidth of OTT subscribers is swelling in an emphatic manner. To substantiate, the video streaming segment is projected to reach USD 71,237 approximately in 2021 with an annual growth rate of 11.0 4% which is tremendous growth in this segment (Statista, 2021). It is expected that there will be around a 21% growth rate till 2028 with the user penetration from 14 to 18 %. It is noteworthy that the US is the predominant market for online video streaming services and generates higher revenue than any country in the world. During the global pandemic, Asia emerged as a major market to consume the services of Netflix, YouTube, Amazon, etc. online streaming services. The following graph will further exhibit the increasing popularity of OTT platforms and digital mediums in Asia which is expected to sustain the momentum of positive growth in the coming years as well.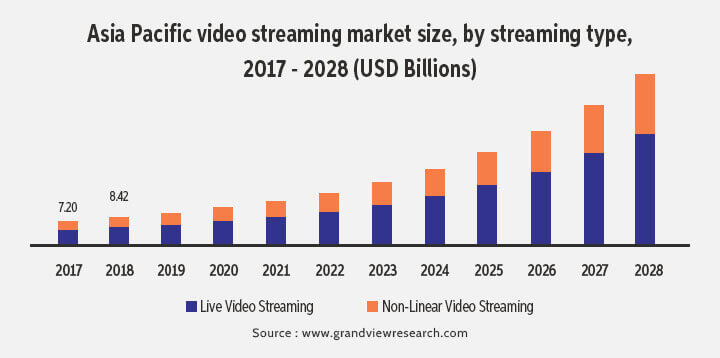 Analyzing the scenario in the OTT industry, it is emerging as a huge platform for customer services that has attracted a broad customer base in the past 3 to 4 years. In fact, the global pandemic acted as a catalyst to the OTT industry and increased its potential for growth (Shahidi, 2021). To explain, as people remained indoors due to the pandemic, they had more time to spend on OTT platforms. It would not be incorrect to say that in the grim restrictions triggered by the outbreak of the pandemic, OTT platforms emerged as the primary source of entertainment. OTT content provided people a great way to deal with the stress and anxiety that were spread by the pandemic.
Without a doubt, this industry is booming due to changing consumer habits where they prefer home entertainment, and as a result video streaming rose by 72% between 2018 and 2019 (Grandviewresearch, 2021). OTT is a massive industry that is growing rapidly due to 2 new technological developments that enhance the consumer experience. It is expected that 2021 will be game-changing for this industry that will set scenarios for the future also. This is because there will be new trends such as the emergence of 5G internet service and a switch from 4G wireless technology. Also, innovation in streaming technology, OTT monetization, and the OTT hosting industry will have positive impacts on the OTT markets. These trends will also enhance competition in the market and innovation by enhancing user experience (Dacast, 2021).
However, the presently leading OTT platforms such as Netflix, Amazon, Hulu, etc. can also face mounting competition from giant media companies which are widely known for their TV, theatre shows, and movies. It has been analyzed that Disney, HBO, NBC, and other media powerhouses giants are gaining market share. To substantiate, the Disney Plus app has been downloaded 3.2 million times in its first 24 hours when it became available. Further, the auditor streaming services from Apple TV plus, Comcast AT&T, etc. will also flood the market in the future where the consumers will have ample choices to get premium content. It is expected that OTT platforms will also change their monetization models due to subscription fatigue among consumers and many of the companies are expected to turn towards the pay-per-view model for video monetization (Dacast, 2021). The other trend which stains the future of this industry is cloud-based OTT hosting solutions by the companies for reliable content delivery, live streaming capabilities, and advanced security features for users.
The OTT industry is closely related to tech companies where most of the technology giants such as Apple, Amazon, Netflix, etc. are engaged in online video streaming services for customers. These companies are continuously involved in brainstorming and innovation using technology for enhancing user experience and to retain customers for a long time. It has been analyzed that there will be more use of innovations such as blockchain technology and artificial intelligence in this industry to improve video quality and for providing more personalized services to the subscribers. It is a proven fact that artificial intelligence has great potential to improve the content, quality, voice-overs, cinematography, and other features in online streaming. There is also increasing adoption of cloud-based solutions by the tech industry to enhance reach to video content using cloud wrapper and cloud interconnections. Netflix and YouTube are already using cloud computing for their video streaming services however there are more opportunities to innovate in this area where cloud scaling can help them to increase bandwidth and deal with buffering issues for a better experience to customers during online streaming (Grandviewresearch, 2021). Thus, it can be said that the OTT industry has great potential to grow and compete in the industry is also growing but technology and innovation by Tech industry companies can help to enhance the user experience for maintaining a competitive advantage.
Netflix external analysis:
Netflix PESTEL analysis:
The subsequent section sheds light on a prudent PESTEL analysis of Netflix to understand the influence of external factors on its business functions and success.
| Porter five forces | Explanation |
| --- | --- |
| Political | Political forces have a relevant effect on companies at the global level where each country has different rules and regulations to manage streaming services in the country. There are generally strict OTT rules and guidelines for companies to comply with because they are subject to government scrutiny and information security. There are stringent rules in European Union that OTT platforms must adhere to as a strict standard to avoid usage of platforms for anti-competitive behavior and to protect customer data. There is a British Broadcasting Corporation in the UK to handle the activities of Netflix, Amazon, etc. In Australia, there is The Broadcasting Services Act that imposes legislation on the OTT sector (Ikigai Law, 2021). In the US there are OTT content regulation rules and guidelines for search companies. changing government rules and guidelines related to the service is always an issue for Netflix and other such companies. India has recently issued new guidelines and rules for OTT platforms and social media under which the companies need to maintain full transparency on information shared on these platforms and these companies will be accountable for information published on their platform (Choudhary, 2021). In addition to it, there is also taxation of Netflix and such companies in your pin union government consider new tax laws for such companies and tax liability is growing. Further online streaming services are related to tech companies that collect and use customer data and thus, the services are strictly prohibited in some countries such as China which can be a huge market for Netflix. Some countries also have strict access to information by these OTT platforms under Anti-Cybercrime Law and under the IT commission to protect domestic catalog (Ikigai Law, 2021). |
| Economic | High economic activities and employment levels show more income in the hands of consumers to spend on entertainment activities. However, it has been analyzed that the global economy is recovering from a global pandemic where it is expected to show growth of 4-5% during 2021 (IMF, 2021). The unemployment rate has also increased during this time where there are more than 200 million people unemployed and it is expected to rise by 3.4 million. On the other hand, it has been analyzed that the global video streaming market is expected to show growth of 21% from 2021 to 2028 and is expected to reach a market value of $ 223.98 billion by 2028. This shows that Netflix and other online streaming services have a huge market to grow due to changing preferences, of course, related to entertainment. |
| Social | It has been analyzed that the global pandemic covid-19 has positively impacted the growth of the online video streaming market because people were under lockdown conditions or working from home. During this time, they shifted to online streaming services for entertainment purposes which shows tremendous growth in the number of subscribers on different online streaming platforms (Madnani, Fernandes and Madnani, 2020). However, there is slow growth in the use of such services by customers because of unemployment during the pandemic and low-income level. It is expected that the online video streaming market will gain momentum in the future due to changing habits of customers during 15 weeks where they prefer to watch movies and shows at home instead of going out due to fear of the spread of the virus or otherwise. |
| Technological | Technology is the major factor that drives growth and competition in the online video streaming industry. Technology is the core of Netflix's business model where there is use of customer analytics technology, recommendation algorithms system, machine learning, etc. which is used by the company to continuously analyze the customer preferences and behavior so that related shows and movies can be recommended to individual subscribers (NATHANAEL, 2021). There is the use of live video streaming software and other such software to deliver content to customers. Netflix also used technology by Amazon (AWS) for its online streaming services which shows that Amazon has great power in its hands to expand its online streaming services at the global level. |
| Environmental | Environment sustainability and changing climate conditions is the major concern for business industries and governments these days under which they need to follow different rules and to take initiatives for lowering carbon emission. It has been analyzed that online streaming emits high carbon dioxide that pollutes the environment. It has been analyzed that Netflix is taking initiative for environmental sustainability by using renewable energy where it uses 100% renewable energy in some regions. The company has a number of renewable energy and carbon oxide projects in 23 different states and 16 countries such as Australia, Canada, China, India, Malaysia, Thailand, etc. (About Netflix, 2021). It also initiated a green Power partner program to scale up renewable energy use and explore new opportunities for sustainability efforts such as reducing single-use plastics, donating excess food using compostable products, engaging employees in sustainability initiatives, etc. |
| Legal | Tech companies are under the close supervision of governments to your right use of technology and digital platforms. There is a strong legal framework in each country to regulate the entertainment and technology industry because there is continuous involvement of large tech leaders such as Apple, Google, Amazon, and many more under a number of anti-competitive behavior and user privacy activities (Regulatory approaches, 2021). the companies have to maintain legal complies with transparency in information and data collected from users due to privacy concerns. Moreover, regulations related to consumer complaints redressed and responsibilities of content shared on platforms. However, it can be said that there is a lack of transparency and standardization in legal rules and guidelines for OTT platforms. |
Netflix Porter five force Analysis:
The following table underlines yet another external analysis of Netflix's business based on Porter Five Forces. It will give another clear insight into evaluating the business strategies, present challenges, and future prospects of the venture.
| Porter five forces | Description |
| --- | --- |
| Threat from new entrants | There is a moderate threat of new entrants as the entertainment industry already involves large companies which cannot be outperformed easily. There is a requirement for huge capital investments and access to large content to start online streaming services. However, new entrants can come up with cost-efficient technology and changes in the industry that may attract more customers but new entrant still face difficulty in getting supplier contracts for content |
| Bargaining power of buyers | Customers have high power because there is a presence of a number of surviving providers at the national and international levels and customers can easily switch. Low switching costs prevent companies from charging huge prices from customers and maintain high service quality to retain the customers. |
| Bargaining power of suppliers | The suppliers also hold high power in their hands because Netflix gets most of its content from third-party production houses and producing media. Netflix competes against other online service providers to get better content and negotiate high prices with suppliers such as Comcast, Gaumont Film Company, RTL Group, etc. which differ in different nations as per the demand of local content. |
| Threat of substitute products | There are many ways of entertainment where some people still prefer TV shows and going to Cinemas for movies etc. The rental DVD products by Blockbuster etc. are still in the market which impacts the business of Netflix. |
| Competitive rivalry | Netflix is facing severe rivalry from Amazon prime, HBO now, Hulu, Disney, etc., which are well known in the market However, Netflix already has an advantage of a high number of subscribers as a first mover to online streaming which cannot be outperformed easily by any competitor. However, in some nations, online streaming provides free of cost and low prices. |
Netflix Competitor's analysis:
Talking about the global entertainment industry, Netflix is a clear leader since it brings online streaming services to an audience that has a diversified taste. Netflix has something in store for people of all interests and choices. The company has completely revolutionized and overhauled the entertainment industry. It offers videos on demand for every mood, every occasion, and every genre. In a few years only, from majorly being DVDs selling and renting company it has risen to be the frontrunner in providing video streaming services online. This company has witnessed tremendous growth worldwide and managed to win a total of 200 million subscribers during 2020 which no other platform has ever done in a year. However, this industry is also not an exception to competition and there are multifarious national and international competitors of Netflix. There is tough competition that these OTT platforms are giving to each other to take the top position in the list of top TV streaming services of 2021. The following is a quick list of the major competitors that Netflix has to deal with.
Amazon prime is the major competitor of the company which provides online videos as per demand services where it not only provides the content which is produced by third parties but also under its own banner. The company has a high potential for growth and is continuously growing despite tough competition (MOSKOWITZ, 2020). Amazon has already a huge network base at the global level with a presence in 200 countries. Amazon has a huge capability which can be easily seen through its competition with Apple, Google, etc. Thus, this company has high potential and is already giving stiff competition to Netflix and others in the same vertical.
Moving further, Hulu is another app that provides subscriber services just like Netflix. This company is the result of a joint venture between different entertainment bigwigs such as Disney, Time Warner, 21st-Century Fox, etc. (MOSKOWITZ, 2020). In the initial years, it was a free app with limited content and paid services for a large variety. Further, it partnered with Yahoo in 2016 to launch new streaming services on live TV. Consequently, the company crossed revenue of $1 billion and 32 million subscribers in 2017.
HBO is another video on demand service which is owned by the HBO channel and gives access to a number of movies and original content for subscribers on their smartphones, computers, etc. The company has a subscriber base of around 3 million that is very little compared to Netflix because the availability of HBO is restricted to the US only and there are no services outside the US. (Bhasin, 2020).
In addition to the above, YouTube is another famous platform that is basically an American video-sharing site where users can upload and share videos to view. This online video app is a subsidiary of Google which acquired it in 2006 for $1.65 billion. It has been analyzed that the app has more popularity than any other video app in the world. There are around 800 million users of this app who visit it to either upload videos or watch them (Bhasin, 2020). YouTube is a major competitor of Netflix since its initial days because the company is improving its features with each passing day by adding new opinions such as live events, music streaming, etc.
Based on this, Hotstar is another online video streaming app that gained immense popularity with live streaming of the Indian Premier League that is the most famous domestic cricket league in the world. The IPL enjoys a viewership worth millions each year from all parts of the world, especially cricket-loving nations. This Indian app is a subsidiary of Star India and has managed to expand its business in the US and Canada as well. It has been analyzed that the app has 340 million viewers during ICC world championships matches. Besides this, it also streams a wide spectrum of TV serials, movies, web series, and other content in multiple languages.
Competitors in prime markets:
The US is the prime market for Netflix and the following chart shows the major competitors in its market along with their respective positioning. The positioning chart of Netflix shows that Netflix stands high in terms of broad catalog and also with 'watch later' options for the customer where they can resume their show or movie anytime. This shows that Netflix has a higher catalog and more diversified content than any other competitor in the market.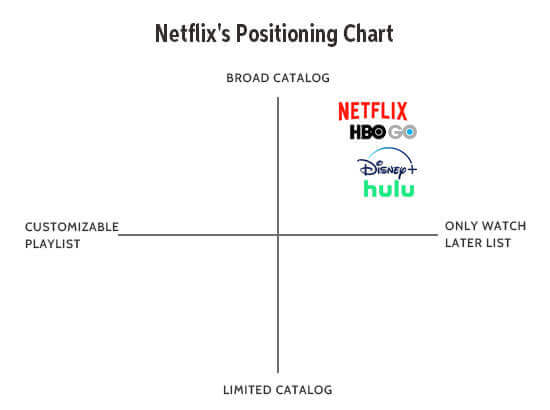 The other map shows the position of Netflix based on the features of social and personalized services. It has been analyzed that Netflix is a more social app and has more personalized content based on the watching lists and interests of the web users. Netflix's algorithms show new series and shows suggestions based on watch and search history of existing users. However, other online streaming apps such as Prime, Disney and so on are nonsocial and do not provide personalized services.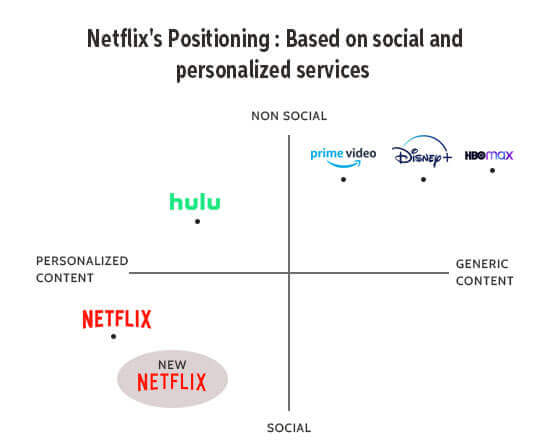 Netflix internal analysis:
It has been analyzed that Netflix maintains an effective workplace culture for the employees where they are free to express their own ideas and to innovate new features for Netflix. The organizational culture and organizational behavior of the company are based on the core values of innovation, curiosity, integrity and so on which encourage the employees to bring something new and remain focused to achieve the organizational goals. The company is completely committed towards its employees and makes corporate culture a way to grow business philosophy based on values and beliefs. Netflix facilitates free flow of ideas and communication at different levels of organization to share new information (ANDERSON, 2019). This helps to create a cohesive workplace culture driven by high employee engagement that strengthens the position of the company. Besides culture, there are other internal aspects which act as core competencies of the company and have their contribution in its competitive advantage. By applying the VRIO analysis model under resource based view theory, there will be analysis of different internal elements that add to the competitive advantage of Netflix.
Netflix VRIO analysis
VRIO analysis is a worthwhile way of determining the competitive advantage for any company. The VRIO analysis of Netflix will give a clearer perspective of how Netflix compares with its competitors on the basis of some salient internal factors.
| Elements | Valuable | Rare | Imitable | Organized | Competitive advantage |
| --- | --- | --- | --- | --- | --- |
| Brand equity | Yes | Yes | Hard to imitate | Yes | Sustainable competitive advantage |
| Brand equity | Yes | Yes | Can be imitated | Yes | Temporary advantage |
| User base | Yes | Yes | Hard to imitate | Yes | Sustainable competitive advantage |
| Content | Yes | No | Can be imitated | Yes | Competitive parity |
| Culture | Yes | Yes | Can be imitated | Yes | Temporary competitive advantage |
The above table shows the competitive advantage and internal core competencies of Netflix based on important internal elements. It has been analyzed that the company has sustainable competitive advantage due to its brand equity and user base which cannot be imitated easily. The company has 10 times more followers and subscribers by other sizable platform Amazon Prime and it is not possible for other online streaming platforms to overcome its subscribers. Further, innovation and culture are temporary advantages with the company because any other online streaming company can early innovate new ways to enhance customer experiences. The company has a huge amount of connections for audiences in different countries but it still relies on third party content which may bring issues for it in future. However, Netflix has started its original content under its own production house, still a major part of content run on Netflix is of third parties which can easily sell it to other online streaming platforms as well. This leads to lack of differentiation. and unique selling points. Thus, the company needs to work on core competency of content which is the core part of Netflix and to attract customers where reliance on third party production needs to reduce.
Netflix business strategy:
Netflix has adopted a growth strategy since its incorporation where the main motive is to expand and grow in different markets through its services. The company started with the business to provide home delivery of DVD movies and shows to customers through the post so that they don't have to visit the store. At that time, the main business strategy was to attract customers through its mail services. Further, the company changed its business strategy to provide online streaming services for customers with unlimited access to movies and shows that can be availed by paying a monthly subscription fee. However, with time, the company changed its business strategy and now the main focus of Netflix is to expand its market through original content via Netflix Originals. Thus, the growth strategy of Netflix is working well for its business where Netflix has adopted different ways to provide its services to the customers and has shifted its business from mail servers to online streaming services. Under this growth strategy, the online streaming services proved fruitful for the company where it managed to reach millions of subscribers for its services and become the largest entertainment company in the world. The company started its business in the US, but now it has its subscribers in almost all the countries except some due to some political issues The number of subscribers of the company is increasing day by day because it provides anytime services to customers on their screens. The customer has the option to run Netflix on mobile, smart TV, laptop, etc. at any time and anywhere.
As the business of Netflix is reaching its maturity stage, the company now comes up with a strategy to provide Netflix original content under its own production house where it produces movies and series in different languages and in different nations to keep the customers. This strategy not only helps to provide better content for customers but also reduces the cost through own production.
Netflix business model:
Key partners:
Key activities
Value proportion:

Movies, Web series, or TV content producers and providers to Netflix for display on their online streaming app
Own production house to produce different content as original Netflix
Smart Tv companies such as LG, Sony, etc. on which Netflix function available (Smith, 2016)
App store companies to provide an opinion to install Netflix on mobile apps such as Apple, Android, Microsoft
Internet and search engine companies such as Google, Amazon, etc. to support the search of Netflix
Influencer community to promote upcoming content of Netflix
Investors and shareholders of the company
Filmmakers, directors, crew members, cinemas etc.

Technology and innovation
Provide all kinds of content related to education, entertainment, science, family-friendly, etc.
Ensure 24-hour streaming without any ad
Maintain options of different user profiles based on different packages
Content licensing and intellectual property rights management (Smith, 2016)
Marketing of new arrivals and old popular content
Customer analytics management
Contact influencers for promoting new series or movie

One-month free trial services for customers
Option to cancel the subscription any month and subscribe through different packages
All the content at home and no need to visit a retail store for movies
Can easily work on mobile, TV, laptops, etc. devices
Unlimited access to a number of shows, movies, etc. without limit of watching
Quick recommendations based on current watching
Review of local shows watched by people in nation for better suggestions

Customer relationships:
Customer segment
Key channels:

Customer analytics and recommendation system for a better experience (Smith, 2016)
Self-setup app to explore a range of shows and movies in different genres and languages etc.
High customer engagement through social media platforms to provide information regarding new arrivals
Ask feedback or review on shows watched or currently watching

Any customer segment which can use or afford Netflix service:
Movie buffs
People avoid TV commercials
Individual watchers
Families with or without children

Online internet service
Online subscription for services
Mobile app streaming service
Smart TV service
Social media channels for providing information on new shows
Customer service and support channels

Key resources:
Cost structure:
Revenue stream:

Software developers and app developers
Customer analytics system and recommendation system algorithms
Support from mobile, TV Computer, Laptop, etc. devices
Content creators, filmmakers
Employees of Netflix to innovate new ideas of service

Marketing and promotional cost where Netflix present on social media platforms and pay advertisement cost for promoting new services
Cost to pay influencers and celebrities to promote new arrivals
Technology and innovation to manage the online streaming platform
Cost of maintaining customer analytic sand recommendation algorithm
Content creation cost to the production house, filmmakers, etc.
Patent or rights purchasing cost from other show or movie makers
Miscellaneous costs of employees, customer service, and research

Customer subscription for Netflix services through a monthly subscription fee
Revenues from the original movie-making studio under Netflix original name
Netflix Pricing strategy:
Netflix has selected a market penetration strategy for the pricing of its services from the very beginning. Under this strategy, Netflix has set low prices for its services to attract more and more customers for its new services during initial offerings. At a later stage, Netflix then started increasing prices after having attracted sufficient customers in the market (Consulting.us, 2021). This pricing strategy is clear from the free one-month trial service of Netflix where the customers can subscribe to Netflix for free and then choose to continue the services by incurring costs. When the customers finally subscribe for services, it increases the prices of services for customers by showing options of new shows and premier features. This strategy of the company is clear from the recent changes in price by Netflix where it has increased the prices for its packages. There is a small increase in simple packages but standard or premium packages show relatively larger increments in pricing. The company justified the increase in pricing by saying that customers can easily bear the alignment increase in prices for better services and to get more original content from Netflix.
The market penetration pricing by Netflix is well suited for its services where it charges the same amount for existing products or services in new markets, however, increases the price for the subscription for new options or original content (Phan, 2020). This pricing strategy by Netflix also helps it to gain an advantage over the competitors in the market where it easily attracts customers through low initial offerings and increases them further with new options to subscribe. Moreover, this pricing strategy also helps Netflix to earn more profits when it gets a huge customer base in a new market. During the pandemic, the company gets a large base of customers, and by increasing the prices during this time it earns more revenues. The Netflix business is deemed to be at its maturity stage where the company needs more profits so that it will be able to restructure and renew its services through original Netflix content and more versatile media to retain the huge customer base and the surge in demand can be continued.
Netflix consumer strategy:
Netflix attracts the consumers through its free trial sources for a month where it provides customers with their favorite shows and movies. The company has its recommendation system algorithms and customer analytics which continuously collect information related to customer interest based on which they recommend new shows and movies to enhance customer continuity on the platform. It has been analyzed that the company has reached 200 million global subscribers in the year 2020 due to the global COVID-19 pandemic where most people were under lockdown. Netflix runs different shows and series in different countries as per the tastes of the customers. For Instance, in the US, the company runs American shows or British shows more as compared to India where it majorly runs Bollywood movies and shows in Hindi. This helps the company to keep the customers attracted by presenting the shows which they are interested in and can relate to them. Besides this, there are also options for some popular shows in different genres and languages which subscribers may like. Thus, Netflix continuously analyzes the interest of the audience in different countries and presents shows of their type to keep them on the platform.
Netflix marketing analysis:
Netflix Marketing strategy 4ps analysis:
Product:
The main product provided by Netflix is the paid subscription for watching unlimited movies and shows available on the Netflix platform. The company provides shows and series of different genres and languages for different types of customer segments such as individuals, families, married people, children, etc. so that everyone in the family can enjoy their own time. Moreover, there are different profile options on one Netflix account where each user can have their own list of movies and series. There are different types of packages provided for availing these services on Netflix. Moreover, the company also adds Netflix's original products to its subscription list which are produced by Netflix production and streamed for the first time.
Price:
The company has adopted market penetration pricing where it attracts the customers in the market by initially offering services at lower prices and when the customers start subscribing to services, it increases the prices based on packages. The company increased the price strategically by providing the option to explore more areas in web series and movies. Recently, it increased the prices for all the packages namely normal, standard, and premium on the basis of more services under the Netflix Original banner where the customers will get more original content. This pricing strategy is very effective to attract new subscribers and retain them by giving a wide range of options.
Place:
The company initially provided its service through DVD mail to the customers where the customer ordered movies or shows and Netflix sent the DVD of the same through the US postal system to the subscribers. However, the current focus of Netflix is only on online streaming services where the customer subscribes by availing of different packages and gets unlimited access to a number of shows, movies, and other content. There is a completely online service by Netflix where the customer downloads the app client and subscribes only and also gets customer service support related to their complaints online.
Promotion:
The company uses an integrated marketing communication approach under which it uses different communication channels for marketing its services. The company extensively uses the various realms of print media including newspapers and other sources to promote its value. Furthermore, in this digital age, the company realizes the advantages of social media and robustly promotes itself across all social media platforms. Moreover, the company has its own YouTube channel where Netflix streams the trailers of some of the popular shows and intrigues the potential audience to avail of paid subscriptions to watch the entire series. Netflix provides regular updates on new arrivals so as to convince them to subscribe to Netflix services (Netflix, 2021). Further, the company uses content marketing where it attracts the customers for new genres of movies and shows under Netflix originals production to get them fresh content for entertainment.
Netflix social media marketing analysis:
Netflix gives a lot of significance to its social media marketing strategies given the fact that social media enjoys millions of active users each month. Netflix has a strong presence across different social media platforms such as Twitter, Facebook, and Instagram to attract the customer by posting and uploading new information. The company uses content marketing on social media to engage more and more customers (Chamat, 2019). Netflix is present on Instagram under different region-specific user accounts such as Netflix US, Netflix India, and so on to cater to the audience of different geographical locations. Netflix's account for US customers has 26.5 million followers where it uploads new stories and posts related to popular movies and shows at a particular time in that country. In a similar manner, the Netflix India account or other regional official accounts endorse the shows popular in those respective countries so that potential customers can be engaged. It is noteworthy that Netflix has millions of followers on Instagram from over 190 countries (Chamat, 2019). The digital and social marketing strategy of the company involves different campaigns, social media posts, easy links to see recent shows with a click on your screen, etc. The company comes up with new commercials on its social media platforms to attract the attention of the general audience and to enhance subscriptions.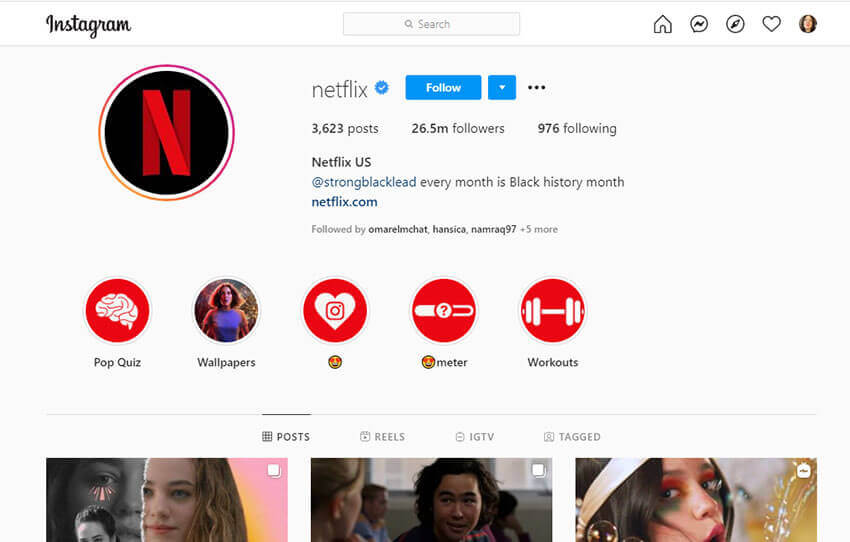 Additionally, the company has a good presence on Facebook with more than 60 million followers and posts a number of videos and images of the upcoming series and content to attract customers. It has also started to attract the customers through behind the scene views and peeks of sets for the audience which attracts them and they search for a show to watch. Further, It has less reach through Twitter but Netflix maintains good relations with Twitter followers where it also replies to the fans' queries and tweets on a daily basis (TaÅŸ, 2021). It can be said that the company has managed to engage audiences through daily interactions and by posting new material for them that creates a unique value proposition to make Netflix a content leader.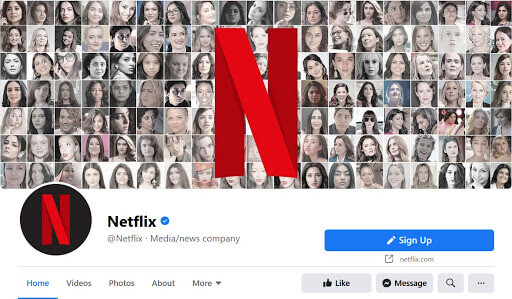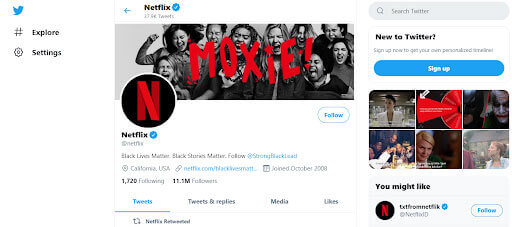 Netflix SWOT analysis:
Strengths:
Weaknesses:

High brand equity and value associated with the company
First mover in online streaming video services
Flexibility in content and personalized services
Large catalog of film and show selection in different countries
Global presence and 200 million subscribers
Diversity in streaming programs
New Netflix Original production for different content

Reliance on third party production houses
Lack of price differentiation that the companies
Lack of differentiation in the business model and can be easily replicated
Rising debt on content rights

Opportunities:
Threats:

The growing demand for online video streaming services
Opportunities to expand products such as video games and online activities
More focus on one production house for original content
Explore new areas through innovation f AR/VR

Increased competition at the national and international level
Existing DVD competition
Increasing power of content providers and production houses
Presence of free video sites ad piracy concerns
Conclusion and Recommendations:
The above analysis of the internal and external environment of Netflix highlighted that the company is growing day by day and has more potential for growth due to changing customer preferences. It has been highlighted that this growth brings more competition in the market where other OTT platforms like Amazon Prime, Disney Plus, etc. are also gaining on market share. Besides this, the company also has a threat from changing norms and compliance for OTT platforms by different governments. Keeping the challenges in sight, some effective and worthwhile recommendations have been made in the ensuing section.
It is recommended to Netflix that it should maintain compliance with legal laws and guidelines. The Indian government has recently made changes in regulations for OTT platforms where it wants more transparency on content shared. The company can ensure its growth in developing market economies like India only by complying with all established laws.
It is also recommended that Netflix should work on its pricing strategy where it should adopt a dynamic pricing strategy based on prices offered by competitors so that it will be able to maintain its revenues along with its customer base.
The other competitors such as Amazon Prime can outperform Netflix due to its technology and innovation base which makes it necessary for Netflix to continuously work on its technology to enhance user experience. It is recommended that the company should utilize artificial intelligence, blockchain technology, and AR/ VR technology to create a power-enhancing user experience.
Netflix also needs to make changes in its business model because it can be easily replicated by any other online streaming platform. It is recommended that the company should decrease the portion of third-party content and focus on its original content which cannot be easily replicated by competitors.
References
About Netflix, 2021. About Netflix - Homepage. [online] About Netflix. Available at: https://about.netflix.com/en [Accessed 11 March 2021].
About Us, 2021. About Netflix - About Us. [online] About Netflix. Available at: https://about.netflix.com/en/about-us> [Accessed 11 March 2021].
ANDERSON, D., 2019. Netflix Inc.'s Organizational Culture & Its Strategic Implications - Rancord Society. [online] Rancord Society. Available at: https://www.rancord.org/netflix-inc-organizational-culture-hrm-strategic-implications> [Accessed 11 March 2021].
Bhasin, H., 2020. Top 11 Netflix Competitors - Competitor analysis of Netflix. [online] Marketing91. Available at: https://www.marketing91.com/netflix-competitor-analysis/> [Accessed 11 March 2021].
BUTLER, D., 2020. History of Netflix: Timeline and Facts. [online] TheStreet. Available at: https://www.thestreet.com/technology/history-of-netflix-15091518> [Accessed 11 March 2021].
McFadden, C., 2020. The Fascinating History of Netflix. [online] Interestingengineering.com. Available at: https://interestingengineering.com/the-fascinating-history-of-netflix [Accessed 11 March 2021].
Netflix Mission Statement, 2021. Netflix Mission Statement 2021 | Netflix Mission & Vision Analysis. [online] Mission-statement.com. Available at: https://mission-statement.com/netflix/> [Accessed 11 March 2021].
Netflix, 2021. Netflix. [online] Youtube.com. Available at: https://www.youtube.com/channel/UCWOA1ZGywLbqmigxE4Qlvuw> [Accessed 11 March 2021].
Smith, N., 2016. Netflix and Business Model Canvassing. [online] Designed, Sealed, Delivered. Available at: https://nicolesmithmba.wordpress.com/2016/02/27/netflix-and-business-model-canvassing/> [Accessed 11 March 2021].
About Netflix, 2021. About Netflix - A renewable energy update from us. [online] About Netflix. Available at: https://about.netflix.com/en/news/a-renewable-energy-update-from-us> [Accessed 11 March 2021].
Chamat, R., 2019. How Netflix uses Social Media to Dominate the Online Streaming Industry. [online] 8ways.ch. Available at: https://www.8ways.ch/en/digital-news/how-netflix-uses-social-media-dominate-online-streaming-industry [Accessed 11 March 2021].
Choudhary, A., 2021. Centre's guidelines for social media, OTT platforms have 'no teeth': Supreme Court | India News - Times of India. [online] The Times of India. Available at: https://timesofindia.indiatimes.com/india/centres-guidelines-for-social-media-ott-platforms-have-no-teeth-sc/articleshow/81345705.cms [Accessed 11 March 2021].
Consulting.us, 2021. Netflix takes smart strategy in the latest price increase. [online] Consulting.us. Available at: https://www.consulting.us/news/1693/netflix-takes-smart-strategy-in-latest-price-increase> [Accessed 11 March 2021].
Dacast, 2021. 8 OTT Trends to Watch For Over-The-Top Streaming in 2021. [online] Dacast. Available at: https://www.dacast.com/blog/4-ott-trends-to-watch-2020/> [Accessed 11 March 2021].
Grandviewresearch, 2021. Video Streaming Market Size & Share Report, 2021-2028. [online] Grandviewresearch.com. Available at: https://www.grandviewresearch.com/industry-analysis/video-streaming-market> [Accessed 11 March 2021].
Ikigai Law, 2021. Online content regulation: how is it done in other parts of the world? | Ikigai Law. [online] TRA. Available at: https://www.ikigailaw.com/online-content-regulation-how-is-it-done-in-other-parts-of-the-world/> [Accessed 11 March 2021].
IMF, 2021. World Economic Outlook Update, January 2021: Policy Support and Vaccines Expected to Lift Activity. [online] IMF. Available at: https://www.imf.org/en/Publications/WEO/Issues/2021/01/26/2021-world-economic-outlook-update [Accessed 11 March 2021].
Madnani, D., Fernandes, S. and Madnani, N., 2020. Analysing the impact of COVID-19 on over-the-top media platforms in India. International Journal of Pervasive Computing and Communications, 16(5), pp.457-475.
MOSKOWITZ, D., 2020. Who Are Netflix's Main Competitors?. [online] Investopedia. Available at: https://www.investopedia.com/articles/markets/051215/who-are-netflixs-main-competitors-nflx.asp> [Accessed 11 March 2021].
NATHANAEL, S., 2021. New Technology Trends for OTT : Video Streaming & Artificial Intelligence(AI). [online] Webnexs Blog | Ecommerce, Video ( VOD & Live Streaming ) and Ride Hailing + Tracking. Available at: https://www.webnexs.com/blog/new-technology-trends-ott-video-streaming-artificial-intelligenceai/> [Accessed 11 March 2021].
Phan, T., 2020. Why Netflix is changing its pricing strategy. [online] The Hustle. Available at: https://thehustle.co/11192020-netflix-pricing-strategy/> [Accessed 11 March 2021].
Regulatory approaches, 2021. Regulatory approaches in the new digital environment. [online] Itu.int. Available at: https://www.itu.int/en/ITU-D/Regional-Presence/AsiaPacific/Documents/Events/2015/Dec-OTT/Presentations/Panel%20Discussion%20Position%20Paper%20Regulation%20OTTs%20Final%20PS.pdf> [Accessed 11 March 2021].
RIVERA, A., 2021. Netflix's Mission Statement & Vision Statement: A Strategic Analysis - Rancord Society. [online] Rancord Society. Available at: https://www.rancord.org/netflix-corporate-vision-statement-mission-statement-strategic-analysis> [Accessed 11 March 2021].
Shahidi, T., 2021. Lockdown-led push for OTT platforms set to carry on into 2021. [online] mint. Available at: https://www.livemint.com/industry/media/lockdown-led-push-for-ott-platforms-set-to-carry-on-into-2021-11608102539208.html> [Accessed 11 March 2021].
Statista, 2021. Video Streaming (SVoD) - Worldwide | Statista Market Forecast. [online] Statista. Available at: https://www.statista.com/outlook/dmo/digital-media/video-on-demand/video-streaming-svod/worldwide> [Accessed 11 March 2021].
TaÅŸ, G., 2021. Key Takeaways from Netflix's Digital Marketing Strategy. [online] Digital Agency Network. Available at: https://digitalagencynetwork.com/key-takeaways-from-netflix-digital-marketing-strategy/> [Accessed 11 March 2021].
Further readings