Woolworth's company and operations
---
Introduction
Woolworths Supermarket is a significant supermarket brand in Australia that has covered a large fraction of the entire industrial domain. This article will focus on explaining different aspects and effects of Globalisation on the company. Detailed information regarding company background, history, current operations, ownership, interesting facts, and fundamentals of future strategy has been provided. Such vast information will help in formulating a clear and concise overview regarding a vast range of organizational parameters. Different sections have been formulated by succinctly extracting information from a number of authentic sources.
Article Summary
This meticulous article gives a detailed account of Woolworths, the largest supermarket retail chain in Australia. The article provides different types of information regarding Woolworth such as company background, current operations, ownership, and facts. In addition to this, the future strategy of the organization is also elaborated in the article that will help the company in achieving all the business and strategic goals efficiently.
Company Background
Woolworths or Woolies is a large-scale chain of Australian supermarkets and grocery stores that is directly owned by Woolworths Group (Arli, Dylke, Burgess, Campus & Soldo, 2013). It is one of the monopoly companies in Australia. Headquartered in Melbourne, the organization was founded 95 years ago in 1924 and has grown exponentially in the overall scale of operations. Mainly due to the vastness of operations, the organization has been able to formulate a duopoly with Coles Supermarkets by controlling more than eighty percent fraction of the entire market. The organization possesses expertise in groceries – packaged foods, meat, vegetable, and fruits – but also deals in magazines, household products, pet supplies, and health & beauty products. Woolworths has also initiated an online store where end users can conveniently order different products with ease and grace. At present, the supermarket retail group has a network of more than 3300 stores, a team of more than 200,000 dedicated employees, and serves around 29 million customers per week on average. Between 2016 and 2020, the overall food sales of Woolworths group increased from 34.8 billion Australian dollars to 42.15 billion Australian dollars (Australia - total sales of food of Woolworths Group 2020 | Statista, 2021). The sales of the group as per F21 half-yearly results announced by the company were up by 10.6 percent against the previous year and stood at $ 35,845 million. Also, the e-commerce sales increased manifold in COVID-19 times showing an upward revision by 77.9 percent to be pegged at $2937 million. Despite the setbacks inflicted by the outbreak of COVID-19 and the consequent shutdowns, Woolworths group has started 2021 on a promising note. The Dividend per share is also up by 15.2 percent (2021).
In the previous year, F20, the group's sales stood at $ 63,675 million, 8 percent up from 2019. Although the pandemic had a strong impact on the group's financial performance, there were elevated sales across the retail businesses of the group which showed strong EBIT growth driven by sales. So, despite the fact that the hotel industry's business declined by more than 48 percent in Q4 of 2020 impacts the performance of the ALH group, the hospitality segment of the group, the growth of H2 sales witnessed an increase by 10.5 percent. So, overall, the group did well to sustain and recover from the losses incurred by the COVID-19 pandemic. Besides, in F20, the online sales of the group increased by 41 percent as customers preferred online purchases and digital modes during the pandemic. The online sales of the group in F20 stood at $ 3523 million.
History
Woolworths Group, initially known as Woolworths Limited, was founded by five Australian entrepreneurs – Ernest Williams, George Creed, Cecil Scott Waine, Stanley Chatterton, and Percy Christmas – on September 22, 1924. The first store opened by the entrepreneurs in Sydney was known by the name "Woolworths Stupendous Bargain Basement". At this period of time, the first store only had 29 shareholders who did not have any interest in accelerating the growth of the organization. With the passage of time, overall trading operations continued to increment and shareholders started buying more capital. Dividends paid by the company increased 10 times from 5% to 50% within the third year of operation (King, 2014).
In 1927, the organization officially became a 'chain' as the second store opened in Brisbane with the same zeal. In 1929, the first store was opened in New Zealand and within 6 years of business, 16 stores were initiated in Queensland, New South Wales, and Western Australia. With the successful operations of Woolworths, the organization began to expand its grocery range and opened up a self-service store in Sydney in 1955.
In the context of acquisitions, Woolworths acquired Tasmanian grocery brands – Roelf Vos and Purity – in 1982. Further, American supermarket giant – Safeway Inc. – was also acquired by Woolworths in 1985 along with naming rights. During the time of acquisition, Safeway had over 126 stores across New South Wales, Queensland, and Victory. By 2017, the organization was successful at rebranding all Safeway stores feasibly (Woolworths Group, 2019). A complete illustration of the timeline of Woolworths' journey ever since its incorporation is given below.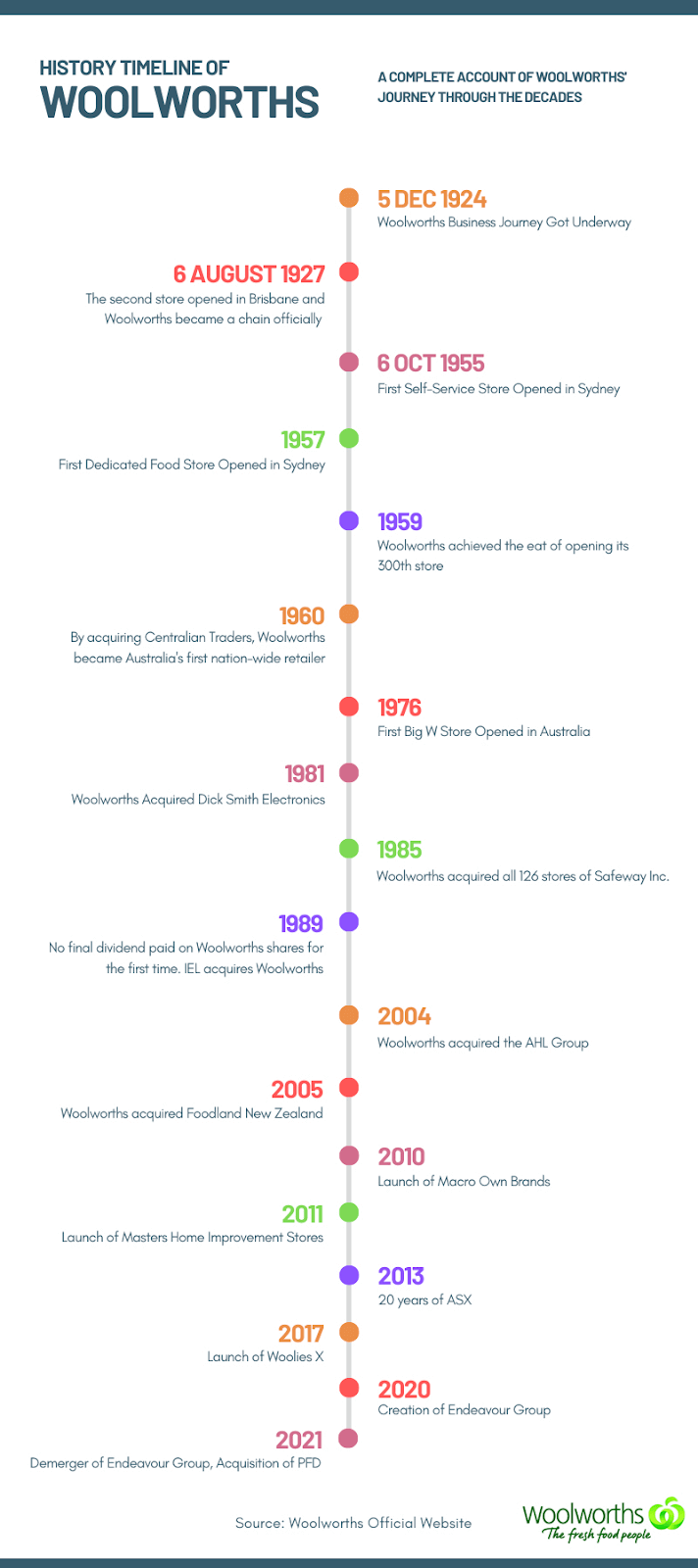 Current Operations
Woolworths has grown considerably large in terms of scale and scope along with the vastness of overall operations. The organization operates across 1024 stores in Australia and relies on more than 115,000 team members who support different business operations in distribution centers, support offices, and stores. In 2019, the organization had 43 metros convenience stores and 981 supermarkets in different Australian regions.
Further, the organization has obtained potential control over a large number of stores that are located in two different countries – Australia and New Zealand. Woolworths Supermarket operates within the same domain between both countries and has grown significantly large in the context of overall operations (Woolworths Group, 2019). Thus, the organization operates internationally and has obtained a considerable fraction of the market space.
The continuing operations of the Woolworths Group include Australian Food, New Zealand Food, Endeavour Drinks, Big W, and Hotels. Presently, Australian Food is operating 1052 supermarkets and metro food stores. Moreover, under New Zealand Food, the group has 182 countdown supermarkets and wholesale operations further supplying 70 other stores. Besides, there are 179 Big W stores and 1610 Endeavour Drinks stores under Dan Murphy and BWS brands. In the hospitality segment of the group, AHL has 334 hotels with modern amenities like bars, dine-in, gaming, restaurants, and other facilities.
To add, the group is now also focusing on building a strong online presence by expanding its network of online stores. Woolies X is the digital segment of the Woolworths Group that is focused on innovations to create optimized customer experiences. It brings together the most cunning minds in e-commerce, media, technology, and data to transform the ways in which people live and shop. In 2020, Woolies X was classified into three platforms including E-commerce & Fulfillment, Digital & Media and Loyalty, and Fintech. The average weekly traffic in the Digital and Media segment is 8 million. Also, in May 2020, Woolies X launched the Everyday Rewards application under the Loyalty and Fintech platform. The Everyday Rewards program is one of the most popular customer loyalty programs in Australia which attracts many customers to shop from Woolworths on a frequent basis.
Moreover, keeping in view the safety concerns of customers during the COVID-19, Woolworths has launched some pickup stores in selected locations that offer contactless deliveries and services like direct to the car boot delivery after customers order online. Woolworths is constantly evolving its technological infrastructure and driving innovations across various operations. The pickup or click and collect services are now available across more than 100 stores across Australia.
In August 2020, the Woolworths Group revealed and announced its intention to acquire PFD, a food services company in a merger deal worth $550 million. The Woolworths Group intends to acquire a 65 percent stake in PFD. Also, as per the undertaking submitted to the Australian Competition and Consumer Commission, the two businesses will continue to function largely independently of each other for three years after the merger (Woolworths' $550 million merger plan may need work: ACCC, 2021). The ACCC has now approved of the merger after prolonged inquiry clearing the way for Woolworths to acquire a 65 percent stake in PFD.
To add, on June 24, 2021, Woolworths and the Endeavour Group for the first time traded as separate entities on the Australian Securities Exchange. This comes after the shareholders of the group have voted for the demerger of the two. The demerger was announced for the first time by shareholders in 2019. However, due to the COVID-19 pandemic, it had been delayed this far. Shareholders feel that the move will be a net positive for both companies. The Endeavour Group was formed in February 2020 via restructuring and merging Woolworths Drinks Business and Australian Leisure and Hospitality Group (AHL Group). After this merger and restructuring, Woolworths accounted for 85.4 percent of the stake in the Endeavour Group while the remaining 14.6 remained with Bruce Mathieson Group (BMG). The ultimate plan was to demerge Endeavour Group after restructuring which is now completed.
Woolworths is also taking long strides to play a greater role in sustainability and has launched various new sustainability initiatives. It claims to be diligent in its objectives of reducing food waste, reducing plastics, sustainable sourcing of energy, and animal welfare. The group has announced that by 2025, to play a larger part in growing the renewable energy sector, the group will be powered by 100 percent green and clean energy that can be renewed. This is a part of the Sustainability Plan of Woolworths Group which is already visible in its current operations and strategies.
For managing large-scale operations, the organization has a well-established Board of Directors, Group Executive Committee, and Board Committee that looks forward to seamless management of various key operations in a coordinated manner. The company also has a strong and effective Woolworths human resource practices. Further, necessary policies, procedures, and operating standards are set up by various board members which are then communicated forward to be adhered to by all team members. Operations of the company and the value chain that the operations are guided towards can be studied here deeply - Woolworths value chain analysis.
Ownership
Woolworths Supermarket is a subsidiary of the parent company – Woolworths Group - that has an extensive interest within Australia and New Zealand. In the context of revenue, it is the second-largest company in Australia after Wesfarmers. The parent company has over 200,000 employees and possesses a number of subsidiaries in liquor, general merchandise, finance, and hotel & gambling. At present, Gordon Cairns and Brad Banducci are Chairman and CEO of Woolworths Group respectively. Due to a prominently large number of operations amongst a wide range of subsidiaries, the organization has been capable of generating an overall revenue of AUD 55.669 Billion. There is also a list of companies that stand as Woolworth's competitors and motivate the company to move further. (Woolworths Group, 2019)
Speaking of the stakeholders of the group, the largest shareholders of the group include HSBC Custody Nominees Limited (25.79 % shares), JP Morgan Nominees Australia (16.75% shares), Citicorp Nominees (7.24 percent shares), National Nominees Limited (3.44% shares) and so on. In addition to the largest shareholders mentioned here, the substantial shareholders from which Woolworths received substantial shareholders notifications as of 1 August 2020 include Black Rock Group and The Vanguard Group Inc with 6.43 % and 6.01 % shares held at the date of notice respectively.
Organizational Structure
The Woolworths Group has a strong and sound organizational structure that ensures prudent decision-making and effective planning at all levels of the organization. The following table illustrates the organizational structure of the Woolworths Group.
| | |
| --- | --- |
| Organizational Position | Incumbent Person |
| MD and CEO | Brad Banducci |
| MD Woolies X | Amanda Bardwell |
| Group Head for reputation, government affairs, and industry affairs | Christian Bennett |
| MD FoodCO and Metro | Guy Brent |
| MD Woolworths Supermarkets | Natalie Davis |
| MD Endeavour Group | Steve Donohue |
| MD New Business and Partnerships | Colin Storrie |
| CFO | Stephen Harrison |
| CIO | John Hunt |
| Chief Risk Officer | David Walker |
| Chief Marketing Officer | Andrew Hicks |
| Chief Legal Officer | Bill Reid |
| Chief Supply Chain Officer | Paul Graham |
| Chief Sustainability Officer | Alex Holt |
| Chief People Officer | Caryn Katsikogianis |
| Chief Customer Transformation Officer | Von Ingram |
As seen above, the group has a well-laid and well-structured organizational framework that is responsible for various aspects of business operations, partnerships, new businesses, government affairs, and sustainability.
Facts
There are multiple interesting facts regarding Woolworths Australia, some of which have been mentioned below –
The first store of Woolworths Group opened on December 5, 1924, in Sydney's Imperial Arcade. The second store opened in 1927 and that is when the Woolworths Group became a supermarket chain.
Gordon Cairns is the incumbent Chairman of Woolworths Group and Brad Banducci is the Chief Executive Officer of the group. The Woolworths Group primarily consists of three core businesses that include Australian Food, New Zealand Food, and Endeavor Group Limited.
As per the official website of the company, Woolworths has 995 stores in Australia and around 115,000 team members working in various stores across Australia. The Woolworths group serves around 29 million customers per week on average.
Woolworths sources around 96 percent of all fresh fruits and vegetables and 100 percent of meat from Australian farmers and growers.
As per Roy Morgan and Woolworths Transaction Data, more than 13 million transactions are made in Woolworths every month, and the supermarkets of the Woolworths group have a 77.8 percent penetration.
According to POPAI, Woolworths Supermarkets enjoy great customer loyalty and more than 76 percent of Australians buy from Woolworths all the time or most of the time.
Woolworths is single-use plastic bags free since 2018 and has taken considerable steps towards maintaining environmental sustainability. The overall impact is considerably large as the organization eliminated 3.2 billion units of single-use plastic bags from circulation (Woolworths Food Group, 2019).
There have been multiple rewards and loyalty schemes that were initiated by Woolworths for engaging and retaining a large number of customers. Such loyalty schemes focus on providing additional discounts to a wide range of customers that frequently shop from different stores.
A reward program named Frequent Shopper Club (F$C) was initiated by Woolworths Supermarket in 1992 and is actively used to date. Under this program, customers would obtain a $20 voucher for every 2000 points accrued.
Woolworth holds a number of training programs (Training programs at Woolworths) for its employees for ensuring customer satisfaction and customer retention.
Woolworths also has a wide range of private label or generic brands that are categorized under – Essentials, Woolworths Food Range, Gold, Macro Wholefoods Market, Delicious Nutrition, and The Odd Bunch. A considerably large number of products are marketed under these private labels to different customer segments.
With a significant presence amongst a wide range of cities, towns, and sub-urban, the organization has taken part in numerous community efforts. Woolworths is committed to positively impact numerous attributes and incorporate a wide range of positive changes. The organization has specifically initiated numerous programs aiming at maintaining the health and well-being of Australia, creating employment opportunities, and supporting communities facing natural disasters (Woolworths Group, 2019).
Woolworths strongly supports Variety – The Children's Charity by allowing customers to donate $2.00 with every purchase. Other initiatives undertaken by the organization include Earn and Learn, S.T.A.N.D., Free Fruit for Kids, White Ribbon, etc. The organization also initiates various food rescue programs with partners such as Foodbank and OzHarvest.
Future Strategy
Towards 2020, Woolworths Supermarket will focus on six different strategic objectives that will deliver future-fit business and help in obtaining long-term suitability. Woolworth's PESTLE and Swot analysis has been a perfect guideline for this creating this type of strategy. The organization has an aim of creating better value for all internal and external stakeholders who are associated with various operations. The first strategical objective is to build more profitable and sustainable customer relationships for attracting and retaining the customer for the long run. The organization has an aim of moving towards connected retail for enhancing the in-store journey of various customers that will help in developing customer loyalty in an optimal manner. Further, Woolworths has the aim of maintaining a position in the retailer industry by incorporating necessary measures that will aid in supporting business activities in the long run (Woolworths Group, 2019). The organization also has the objective of integrating a lean operating model across various core platforms in an optimal manner and create significant differentiation across various key operations.
As a part of its future strategy, the group is keen on building a greater online presence and penetrate deeper into the online retail sector through its digital ambitions set under Woolies X. The future plans of Woolworths Group include acceleration in digital and e-commerce platforms, coming up with eStore propositions to cater to the changing customer needs, and creating a stronger and better E2E model prepared for the future and challenges like the COVID-19 pandemic. The group is also looking forward to evolving its portfolios and work on build adjacent. Moreover, the future strategies of the group include the differentiation of food customer propositions. These are among the top strategic priorities of the group (Our purpose & key priorities - Woolworths Group, 2021).
Besides, the group will further look to establish and strengthen the platforms under Woolies X that have undergone various transformations in recent times. In 2020, the Woolworths Group announced a $700 million in technology that it aims to leverage as a part of its futuristic strategies. The group will look to further bring in more innovation in its Fintech and Loyalty platform and Digital and Media to further grow and expand. Woolworths is working on a plan to solidify the ties between Woolies X and Group IT for the integration of digital technology and innovations in the core operations of the company in the coming years. Clearly, cross collaborations and strategic partnerships are a part of future plans of the group to leverage technology as much as possible and unleash new horizons by bolstering Woolies X.
Also, the future strategy will include the way forward from the demerger of Endeavour Group. Moreover, the group has now acquired a 65 percent stake in PFD with an expansion strategy in mind that it will focus with great attention. To add, the future strategy of the group is also based on leveraging its demerger with the Endeavour Group. After the demerger, Endeavour Drinks is set to own the most extensive network of retail alcohol stores in Australia with 1630 stores. The network will also have 332 hotels. This strategy of the demerger is also based on the objective of making the Endeavour Group one of the top 50 companies in ASX. The group will put all momentum behind gaining the most out of this thoughtful merger as a part of its future strategy.
Moreover, a segment of the future strategies of the Woolworths Group relates to its Sustainability Plan as discussed above. Under its Sustainability Plan, the group aims at zero food waste to landfills by the end of 2025. Besides, other objectives include reusable or compostable own brand packaging by 2023, 100 percent recyclable own packaging by 2025, and net positive carbon emissions by 2050. In addition to this, the group aims to power all its operations with renewable electricity by 2025. This revamped approach toward sustainability will be an underlying drying force to the future strategy of the group.
Further, the organization has a strategic aim of unlocking value in the portfolio by continuously driving synergies and efficiencies across multiple groups. Above all, the organization aims to embed a good business journey throughout various attributes of the business. This will aid in attaining the primary vision and mission of becoming the most responsible retailers in the entire world and simultaneously contributing towards the betterment of various communities.
Note: In case you as a student want to take assistance in completing your college assignment on the marketing strategies of the Woolworths Group or any other subject assignment. Then, you can anytime contact our team at Assignmenthelp4me. We would always be available for the online help you need to score high in your college assignments. For this we have dedicated teams at Assignment Help or Assignment Help Canada, to provide you help from your city professionals.
Further Readings
Latest Reviews
Rajuvangala Chinna
I had only 1 day to submit my assignment and assignment help 4 me gave my assignment in that one day. Also, I got good grades in the Woolworths supermarket assignment.
Sashikant
The information given about the Woolworths company is in very simple words. It is very useful to do my assignment by self.
Ramesh bandlamudi
Woolworths is one company on which our professor gives us a lot of college assignments. I was unable to complete the assignment. This company did my assignment with full perfection and as per the guidelines.
References
Arli, V., Dylke, S., Burgess, R., Campus, R., & Soldo, E. (2013). WOOLWORTHS AUSTRALIA AND WALMART US: BEST PRACTICES IN SUPPLY CHAIN COLLABORATION. Journal Of Economics, Business, And Accountancy | Ventura, 16(1). doi: 10.14414/jebav.v16i1.123
Statista. 2021. Australia - total sales of food of Woolworths Group 2020 | Statista. [online] Available at: [Accessed 25 June 2021].
Woolworthsgroup.com.au. 2021. [online] Available at: [Accessed 25 June 2021].
Smh.com.au. 2021. Woolworths' $550 million merger plan may need work: ACCC. [online] Available at: [Accessed 25 June 2021].
King, M. (2014). 10 facts you need to know about Woolworths Limited. Retrieved 28 December 2019, from fool.com.au/2014/02/06/10-facts-you-need-to-know-about-woolworths-limited/
Woolworthsgroup.com.au. 2021. Our purpose & key priorities - Woolworths Group. [online] Available at: [Accessed 25 June 2021].
Woolworths Food Group. (2019). Woolworths Food Group's plan to get customers to put us first - Woolworths Group. Retrieved 28 December 2019, from woolworthsgroup.com.au/page/media/Latest_News/Woolworths_Food_Group%E2%80%99s_plan_to_get_customers_to_put_us_first
Woolworths Group. (2019). Strategy and objectives - Woolworths Group. Retrieved 28 December 2019, from woolworthsgroup.com.au/page/about-us/our-approach/strategy-and-objectives
FAQ
What company owns Woolworths?
Woolworths is owned by the Woolworths Group which is the second largest company in Perth, Australia in terms of its revenue.
What is Woolworths business strategy?
The business strategy of Woolworths is focused on three core principles which include offer, growth and efficiency. The company has its own food strategy that aims to offer best quality products to customers and to improve the customer satisfaction.
How many employees does Woolworths have?
Woolworths has employed 225,000 employees at its stores who serve around 29 million customers every week.