Making a name in the business world is no cake walk. It does require a company to cross many hurdles and similar has been the enthralling journey of Coles Supermarket Australia. The company has gone through tremendous changes during its 100 years. This article describes the changes and strategies in detail. It also analyses the business and marketing strategies adopted at present and over the years.
About coles
Coles is an Australian retailer having nearly 2500 supermarkets and retail outlets in the country. It is known for delivering great quality, high-value products and services to its customers. Coles takes pride in serving nearly 21 million customers every week. Its vision is to become the best retailer in Australia and grow long-term shareholder value. Every individual at Coles works his best to help people in Australia live their lives in a happier, healthier and better manner. As a result, Coles has become one of the leading supermarkets in Australia.
Article Summary
This article puts forth the findings and inferences of a meticulous and detailed strategic analysis of Coles, one of the largest and oldest supermarket retail chains in Australia. Along with Woolworths, Coles is a part of the duopoly that is present in Australia's supermarket retail industry. This article presents an account of Coles' history, its operations, business strategies, and the current operations being undertaken by the company. Moreover, intelligible internal and external analyses of Coles have been carried out from the medium of this post to give readers insightful details of the business functioning of Coles in relevance to various internal and external factors.
Coles history
Coles is the first supermarket of Australia. It began its journey in 1914 when G.J. Coles opened the first Coles stores in Smith Street, Collingwood, Victoria. Initially, Coles was a variety store which promised to deliver people with good products and services, costing no more than 1/-. As a result, on the very first day itself, the Coles store attracted huge masses of customers and made a good profit in ten days.
Further, as Coles kept rising to success, it started making donations to charities like hospitals, nursing homes and relief funds for the unemployed. This highlights one basic value instilled in Coles and its workforce, which is- 'To serve the society in the best way'.
In the later years, as Coles stabilized its grip in the Australian market, it started adding more items of new kind to its stores. For example, in 1946 Coles added electronic items such as Toasters and irons. Further, in 1948, Coles brought in its first range of cosmetics. This is how the company made its progress to become a supermarket in Australia.
Moving on, it was in 1960, that the first Coles supermarket was opened in the Melbourne suburb of North Balwyn. By 1973, Coles supermarkets made its mark in all capital cities of Australia. These supermarkets had everything the customers could need from light bulbs to vegetables and fruits. In short, Coles became one stop solution for the customers' needs.
Then, in the 80's Coles supermarkets started modernizing. It introduced the first electronic scanners in its stores in 1982. As a result, the customers got printed receipts of their purchases. Later, as the internet technology gained popularity, Coles entered the online market through Coles online in June 1999. Then, in 2007, Coles was acquired by Wesfarmers- a popular and iconic Australian company. It was in the ownership of Wesfarmers that Coles made further progress and launched animal welfare and responsible sourcing initiatives. But, after nearly 10 years of the Coles and Wesfarmers merger, Wesfarmers presented a proposal to demerge Coles. Then, on 15 November, 2018 the Wesfarmers shareholders approved the demerger of Coles and it became a standalone publicly listed company.
Coles business strategy analysis
Coles stands firmly in the highly competitive world of business with the help of its three strategic pillars. These are- Smarter selling, Inspire customers and Win together. Each of these pillars has been described below in detail:
Smarter Selling

Smarter selling is related to adopting changes with the different changes occurring in the world. It involves both technological and non-technological changes. In alignment with its strategic pillar of smart selling, Coles has introduced smart technological systems in its stores. For example, it has adopted the hybrid cloud model. It is with the help of such technological transformations that Coles has created technology lead stores and supply chains. Apart from this, strategic sourcing, optimized network and formats are some other features of Coles' smart selling strategy.

Inspire customers

Coles uses this amazing business strategy to attract and gain their loyalty. It works in a dedicated manner to provide best value food and drink solutions which lure customers. Along with this, it also creates best value offers for its customers. As a result, they get inspired to buy Coles' products. Here are some examples of the different ways in which Coles inspires its customers:

Tailored offers with trusted and targeted value

Leading anywhere and anytime shopping

Focuses on customer convenience and health

Win Together

Coles believes in the power of teamwork. The entire Coles group works together and aims to win together with its teams, suppliers and communities. Thus, it takes a number of initiatives to support its teams, suppliers and communities. Given below are some of them:

Ensuring well-being and safety of the workforce

Creating a good work environment to drive engagement

Innovating through great partnerships
Coles Internal and external analysis
Internal analysis
Analysing COLES vision and mission statement

Coles Vision

Coles envisions to 'become the most trusted retailer in Australia and to grow long-term shareholder value.'

Through the vision statement Coles expresses its aim of becoming the most reliable and responsible retailer in Australia. This implies that it strives to do every little thing with which it wishes to become the number one choice of Australian customers. With having such a mission statement, a company is not only interested in making profits, which is the common goal of all organizations, but it aspires to captivate the hearts of the customers. This highlights how important Coles considers its customers to be.

Further, moving on to the remaining half of the vision statement of Coles, which is- to grow long- term shareholders. This part of the mission statement, points out that Coles endeavors to establish a strong long-term relationship with its stakeholders. It is quite natural as investors, employees, customers, suppliers i.e. all types of stakeholders are the lifeblood of a company. So, to sum up, Coles' vision statement is dedicated to attracting Australian customers and its stakeholders through its efforts and good work.

Coles Purpose

Coles states it purposes as to 'sustainably feed Australians to help them lead happier, healthier lives.'

Through its purpose statement Coles has clearly highlighted that it exists to sustainably feed the Australians. This implies that it aims to provide Australians with the best quality food, which is healthy and processed in a sustainable way. Not only this, Coles also endeavors to maintain its position in the Australian market and keep providing Australians with high quality and nutritious food.

Analysis of Coles Objectives

The objective of Coles is much in alliance with its vision that is to provide sustainable service to the citizens of Australia. The company facilitates its goods and services with the vision to offer its citizens good health and prosperity. It aims to achieve these goals by underlining the following short objectives.

It aims to offer quality services and products to its clientele at lower prices. This is to ensure that its services are able to match the income of all stratas of society.

Through its supermarket, the company aims to serve fresh and high quality food products to its consumers. This is to further make sure that all its customers get high quality food at affordable prices.

It aims to develop and maintain a strong bond with its suppliers. The company aims to do this with strategic partnership. For this it keeps on bringing up policies which are beneficial for the suppliers as well.

Coles as a company always believes in creating happy and satisfactory work environments for its employees. It ensures to do this by sustaining the flow of positivity inside the company.

Value proposition and product offering analysis

Coles is a well established company which enjoys values of high trust and loyalty among its customers. The company is known to have a great reputation in the market. More about the value proposition and product offerings can be calculated by conducting a marketing mix of the company. This is further evaluated with the help of 4P analysis of Coles.

Coles Products

The company is known for its wide range of products, which it offers to its customers. Its list includes almost every household item. The products range from General merchandise and Coles Financial services, to groceries, fuel, liquor, and fresh food items. It has various segments under which its varieties of products.

Coles prices

The company offers a competitive range of products at low prices. This is to maintain its legacy in the market. There is a definite competition that the company faces from its competitors. This is why Coles has to be careful about its pricing strategies. Its policy of lowered pricing strategy helps it strengthen its position in the Australian Supermarket. The company also provides many other daily discounts and pricing advantages to its customers. It also has loyalty programs for its regular customers, with which it keeps updating its customers about the latest offers and product launches.

Coles Place

The company has a strong presence in the market. It has a total of 2500 outlets with which it reaches its vast clientele. It even has significant presence online, which is yet again a very competitive mode to keep in touch with customers. In fact during these pandemic times, when virtual shopping has become more of a need than trend, the company is helping its customers buy their products.

Coles Promotion

Promotion or marketing techniques play an eminent role in developing the image of the brand. It helps the customers in remembering the range and the names of the services offered by the brand. The company uses strong marketing tools to ensure its stake in the market. Also, Coles has strong competitors present in the supermarket business. This makes it more essential for the company to make use of best marketing practices.

Porter's Five forces model Analysis

Porter's Five Forces Model Analysis uses five forces to analyze competition intensity, profitability and captivating traits of a business organization. The five forces this model utilizes are- Threat of New Entrants, Threat of substitutes, bargaining powers of suppliers, Bargaining powers of customers and Rivalry among existing firms. Given below is a detailed analysis of these 5 forces with respect to Coles.

Threat of New Entrants

Coles takes pride in being Australia's first supermarket. It is loved by Australians for its high quality of food and excellent customer experience. But, it's supremacy is always under threat as there are many foreign supermarkets which have entered the Australian market. Although it is not an easy task for foreign supermarkets to captivate the hearts of Australian customers, the possibility still threatens Coles.

So, it is taking effective steps to become an integral part of the life of Australians. It is now providing a diversified range of healthy food items, following sustainable practices and doing its best to gain customer loyalty. If it succeeds, even extraordinary foreign supermarkets won't be able to attract Australian customers because of their loyalty for Coles.

Threat of substitute

Coles offers a diverse range of products to its customers. But, for many of its products different substitutes are available in the market. This was a cause of concern for Coles earlier. In order to overcome the threat of substitutes, Coles started following the low price strategy. This strategy actually became successful in overcoming the threat of substitutes. It happened because Coles provided best quality products to its customers at the lowest prices. As a result, customers chose Coles' products over the substitutes. Thus, Coles does face the threat of substitutes, but its low price strategy gives it an advantage over the substitutes.

Bargaining power of suppliers

There are a number of suppliers which supply quality raw materials, goods and other necessities to Coles. Although, the suppliers have a general tendency to bargain, but in case of Coles the suppliers don't possess much bargaining power. This is because Coles is a supermarket with whom new suppliers would love to connect. So, if its current suppliers try to bargain much, Coles can easily switch to new suppliers. This leaves no much bargaining power in the hands of the suppliers. Thus, Coles doesn't have to bargain with its suppliers.

Bargaining powers of customers

Customers are the lifeblood of an organization. Also, they have the power to switch to any supermarket they wish to. So, if Coles has to maintain its customer base, it has to provide excellent quality products at lower cost than its competitors such as Woolworths Supermarkets, Aldi and Metcash. Otherwise, customers will start switching to other supermarkets and it will be really hard for Coles to get them back. Thus, Coles gets impacted by the bargaining powers of customers.

Rivalry among existing firms

Coles faces a strong competition from a number of competitors. But, Woolworths and Aldi are the two competitors which offer the biggest competition to Coles. Just like Coles, Woolworths has a huge market in Australia. Whereas, Aldi didn't have that huge share in the Australian market, but now it is slowly gaining a significant increment in its share with its low price strategy. Thus, Coles faces a strong rivalry from its competitors. In order to sustain itself, it will have to devise new and innovative strategies, having the potential to captivate customers.
Positioning and Competitive Analysis
There was a time when Coles was the first and only supermarket in Australia. It followed the low price strategy to gain a huge customer base. As a result, it enjoyed the top position in the Australian market and had no competition to face. But, later as other supermarkets like Tesco, Woolworths, Costco and Aldi entered the Australian supermarket, Coles started facing a strong competition. An indepth Woolworths business strategy analysis reflects that the company has already achieved a significant position in the Australian market. This is because it offers best quality products to the customers at lower prices. Now, talking about Tesco, Costco and Aldi, all three of them are slowly succeeding in increasing their share of customers in the Australian market. Thus, Coles no longer enjoys the supremacy of being the top supermarket in Australia. Although it still maintains a significant position in Australian market with a huge customer base, strong competition always threatens it.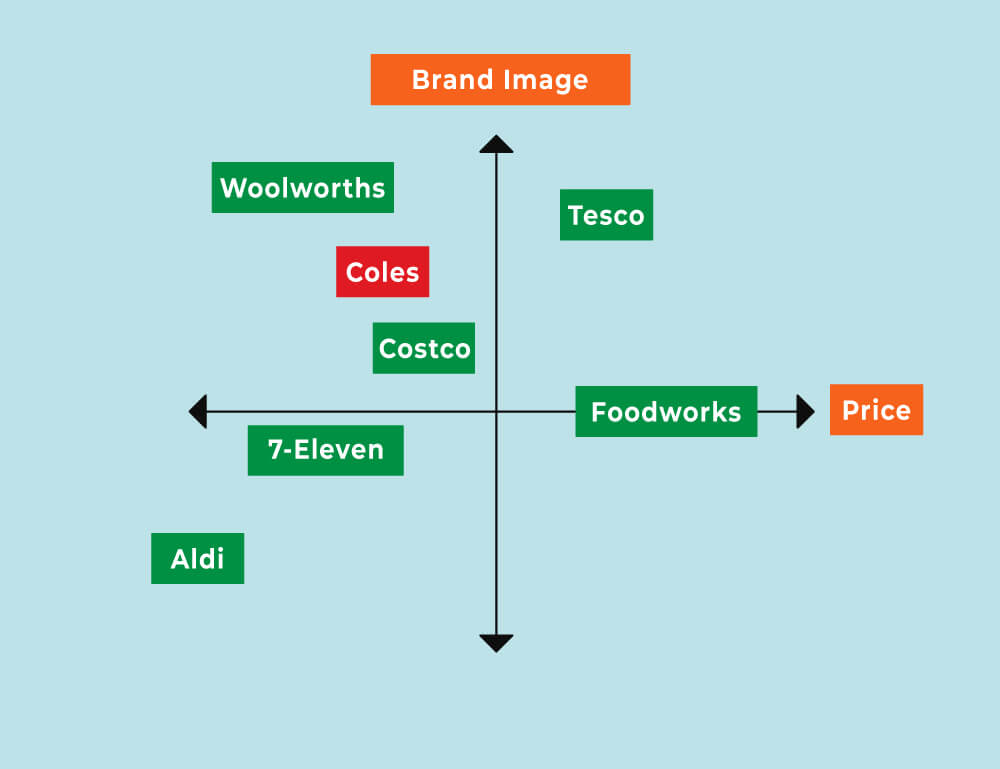 Coles differentiation
Coles is the first super market of Australia. This is itself a very special thing about it, but it's not the only one. There are many other things which make Coles a very special supermarket. Given below are some details of the things which differentiate Coles as an extraordinary supermarket:
Sustainability

Coles has taken the initiative to manage the environmental and social impacts of its operations. It works dedicatedly to ensure that its products are sustainable, its practices are sustainable and its communities are also sustainable. By doing so, Coles is shouldering its Corporate Social Responsibility in an extraordinary manner.

Given below are some insights on how Coles ensures sustainability at all levels

Sustainable products

Coles works on delivering quality, healthy products to its customers in an ethical and responsible manner. It has set some policies and requirements for its suppliers to meet. These include elements like safety of the products, human rights, animal welfare, nutrition and packaging. In order to make their products acceptable, suppliers have to fulfill all these requirements. Further, sourcing fresh food from Aussie farms first, sourcing seafood responsibly and hormone free beef are some examples of sustainable practices offered by Coles to ensure the sustainability of its products.

Sustainable Communities

Coles takes pride in supporting the communities it serves. So, it supports Aussie producers by following the Australian First Sourcing policy. This implies that it prefers to get its fruits and vegetable reserves from Australian producers only. Along with this, it also ensures maximum comfort for its customers both during in-store and online shopping. Further, Coles also offers carry to car services to its customers. This way, Coles leave no stone unturned to support the communities around it.

Sustainable Environmental Practices

With the rising levels of environmental pollution, it is important for humanity to work on restoring the environment's health. So, Coles puts its very best in safeguarding the environment by following sustainable environmental practices. Waste management and recycling, single use carry plastic bags and utilization of renewable energy are some of the sustainable environmental practices followed by Coles.

Responsible Sourcing

Coles follows responsible sourcing practices. This implies that the company is well aware about the places its products and goods are coming from. Not only this, it also ensures that only healthy practices are followed at all such places for production. Thus, Coles makes sure that the raw material, products and goods it brings in its stores are produced in a way that it has no negative impact on humans and the environment. Usage of certified products and ingredients in addition to animal welfare are two important practices which the company follows for responsible sourcing.

Coles Own Brand Products

Along with selling products from different trusted brands, Coles also sells its own brand products. These products are created with an aim to help the people of Australia, make the healthiest choices for themselves. While producing these products Coles follows different policies such as salt, sugar and saturated fat reduction policies to offer the healthiest products to its customers. Along with this, Coles also follows proper safety practices to ensure high quality of its products.
All these things together, provide Coles a distinction from its competitors.
External analysis
Coles Industry analysis
The world of business is a highly competitive one. But, when we think about the sectors of the business world which face the toughest competition, the grocery and supermarket industry tops the list. Although, Coles was the first supermarket of Australia, with time competition has grown significantly. Woolworths has slowly surpassed Coles and risen to the top of Australia's grocery and supermarket industry. On the other hand, the rapid expansion of Aldi in the Australian market has posed another huge threat to Coles' position. As a result, both the top two rankers in the Australian supermarket industry i.e. Woolworths and Coles have to lower the prices of their products to stand firm against Aldi.
Further, as these supermarkets approach the nearly same price range, they have started competing with each other on the basis of other factors. Digital capabilities of the stores and customer experience are two major ones of them. Although, currently, Woolworths and Coles rank at the first and second position respectively in the Australian market, they are facing a tough competition from Aldi.
Moreover, Aldi is not the only competitor Woolworths and Coles have to tackle. IGA, Star Mart and BI-Lo are also gradually increasing their share of customers in the Australian market. Thus, Coles is facing a strong competition to maintain its position.
Coles competitors strategy analysis
Coles as a company faces strong competition from its competitors including woolworths and ALDI. This section details the analysis of both the companies separately.
Woolworth's

It is one of the biggest competitors of the Coles company. Woolworths started its business in 1924 in Sydney. The company slowly expanded its business with nationwide stores. Today it has business in more than 1000 locations with more than a lakh employees working for the company. Also, it accounts for the 34% share of grocery selling in the Australian market. The company markets with its business slogan, "The fresh food people". Its product range includes various daily products, pet care products

ALDI

ALDI is one of the most renowned brands of the world. The number of people buying its products is very huge. Also, the company is famous for selling its own label of products. The company has been popular for its inhouse products. Moreover its policy of offering the products at double guarantee has made its world renowned. The group is owned by Einkauf GMBH and is known as a place of discount supermarkets. The chain has surfaced 10,000 supermarkets in around 20 countries of the world.
Coles customer analysis
Coles takes pride in being one of the largest retailers in Australia. It serves nearly 21 million customers every week through its 2500 stores. One of the major reasons for Coles' huge customer base is that it offers everything Australians generally need. Fresh fruits, vegetables, baby care products, cosmetics, hygiene products, each and everything is available in the Coles' stores. This makes it a one stop solution for different needs of the customers. Not only this, Coles also makes sure that its products are best in quality.
By doing so, it consistently fulfills its aim of feeding Australian's with healthier, better and sustainable food products.
Further, Coles puts dedicated efforts to ensure a comfortable shopping experience for its customers. Along with in-store shopping, it also offers online shopping facilities for its customers through Coles online.
Coles Current Strategy
Coles as a company has been facing tremendous jerks in its progressive journey. With an aim to overcome the losses and fetch a higher customer range, the company brought in a new strategy. In this new strategy, Coles Supermarket aims to generate revenue from the top 30% class of the society. It states that though the country has a huge number of citizens who are under debt, it also has 30% of the population, who earns more than $100,000 a year. By targeting this particular segment of the society, the company plans to cover its financial losses.
Additionally, the growth of the high end customer's spending capacity is ever increasing. This is the reason targeting these people, the company aims to work upon its losses and move towards a journey of financial growth. In its new strategy, the Company has divided its customers into four categories. It has segmented the categories after studying the needs and the priorities of the people falling into them. In fact it has designed 4 store formats for the four categories of people. These categories are given below:
Mid to high affluence demographic- The customers who fall in this category are generally living 15 Kms away from the city. This therefore covers the suburb areas. The company gives a premium offer to these customers, with a high focus on product types falling in the range of food and convenience.

The second category belongs to the middle class people. These generally refer to the customers with medium influence over the business, living in the middle parts of the suburbs. For these customers, the Coles plans to follow the Standard Coles format.

The next format is door 3. It has designed it for the customers who live in the outer suburbs therefore fall in the mid- low affluent category. The model for this section is low cost and self service.

The fourth option or the category as believed by Coles will deliver great profits to the company. It is called the Coles Local format and it plans to aim at the wealthiest citizens of Australia. The company aims to target this category with values of freshness, health, hygiene and conveniences. There are food range products which are healthier and comparatively costlier, which can yield great profits for the company.
Coles current strategy analysis
STP Analysis of Coles Group
| Segmentation of Coles | Retail and Departmental Stores |
| --- | --- |
| Target Market of the company | It targets the households of the middle class and premium class families in the country of Australia |
| Positioning of Coles group | The retail stores of the company provide great savings while spending deals in daily household needs. It offers lucrative deals for fulfilling the daily needs of its customers. |
SWOT Analysis of Coles
Strengths
It enjoys a large share of Australian food and liquor market. It is much possible due to the long history of the company.

The company uses the best marketing strategies. It makes the use of patriotic and consumer centric slogans to keep its buyers interest vested in their services.

The company executes the use of beneficial pricing strategies to attract a large number of customers.

It runs varied successful marketing campaigns, which are conceptualised on the basis of the interest of the customers.

Great service and delivery accountability of online and offline orders.

The company has presence in around several cities with its 800 stores.
Weaknesses
As compared to the competitors, the company has its strategy working on lower margins

The company faced negative promotion due to its hard hitting negotiations with the suppliers of Australia. It actually hurt the emotions of the public towards the company.
Opportunities
The company can withhold greater control over the supply chain. This can be done by channeling the producing and generating profits at multiple levels.

The company can expand its geographical reach to add more numbers to its profits.

The company can invest in better marketing and branding exercises to catchold the attention of potential customers.
Threats
The rising competition in the supermarket business is resulting in plunging of the prices of the products.

The increase in competition leads to a confused state of mind of the consumer. He is at the end not able to differentiate between the better supplier of products and services.
Coles strategic framework
The current strategy of Coles aims to reach its customers with a more simpler and more approachable approach. The company plans to focus its attention on key driving areas of the company. These include: customers, suppliers, business and the market.
Its approach is to reach its customers in a more simplified manner. It also aims to bring a change in its relationships with the customers. The company is bringing in various strategies to bring an ease into the supplier chain and offer a clear strategic direction to its suppliers as well as customers. The motive of Coles is to ensure that its customers get the highest comfort in the easiest way possible.
Following are the four strategic frameworks with which the company works
Coles' first priority is to simplify its way of operation. By doing so, it aims to ensure that its offers, communication and pricing, all get simplified and do not appear cluttered at all. The primary reason for Coles putting massive efforts in simplifying everything is that simplification makes it easier for the customers to shop. Not only this, it also endeavors to make the offers even more engaging for the customers. As a result, they love to shop from Coles stores and keep coming back.

Coles' second priority is to redirect every business member's attention on the basic retail fundamentals. It is doing so to reduce and remove any needless costs which the customers might be bearing. As a result of the optimized costs, Coles will add more value for its customers.

Coles' third priority is to differentiate its product offers to serve its customers in a better manner. For this, Coles is directing its dedicated efforts towards the development of its exclusive brands and sustaining good relationships with its suppliers. Along with this, it is also working to enhance the engagement of its team members with the customers.

Coles' fourth priority is to become more relevant and accessible for its customers. For this, it is planning to advance its stores, estate and online business.
Coles, is definitely a company which has driven its own success story. There are a number of learning opportunities, which a student can grab from its case study. Even a startup can also embrace great lessons from the roller coaster journey of the company. This is the reason why colleges and universities give so many educational assignments to the students.
Further Reading
FAQ
What is Coles competitive advantage?
The competitive advantage of Coles is its continuous growth policies, smart selling and better customer experience that it offers to its customers.
What are Coles values?
Integrity, mutual respect for all its people, honesty in every task and respecting the values and beliefs of its cutomers are the Core values of Coles.
Which is the Coles target market?
Citizens of Australia with varied cooking habits and the retail stores or supermarkets having low to high income base customers ifrom all age groups, are the target clients of Coles.