Introduction
---
Management is a salient functional area for the world and it is a vertical that is relevant to all spheres of life. This insightful article elucidates Henry Fayol's principles of management along with the five functions of management given by Henry Fayol that drive all sorts of management activities in any organization. Moreover, the article meticulously applies Henry Fayol's principles of management to the management practices of Tesla and Walmart for a clearer and pragmatic understanding.
Brief about Henry Fayol
Henry Fayol was a French Engineer who is also known as the "Father of Modern Management" (Uzuegbu & Nnadozie, 2015). Born in 1841, he followed the engineering profession in a mining company in which the city directed the affairs of over 10,000 employees. During this time, Fayol gained interest to write about management and he devised the theory of management that focused on basis of formal management education and training (CMI, 2021). He published his book on the theory of management which not only contained functions of management but also 14 principles of management which are still the basis of management practices in the business world.
Henry Fayol's Principles of management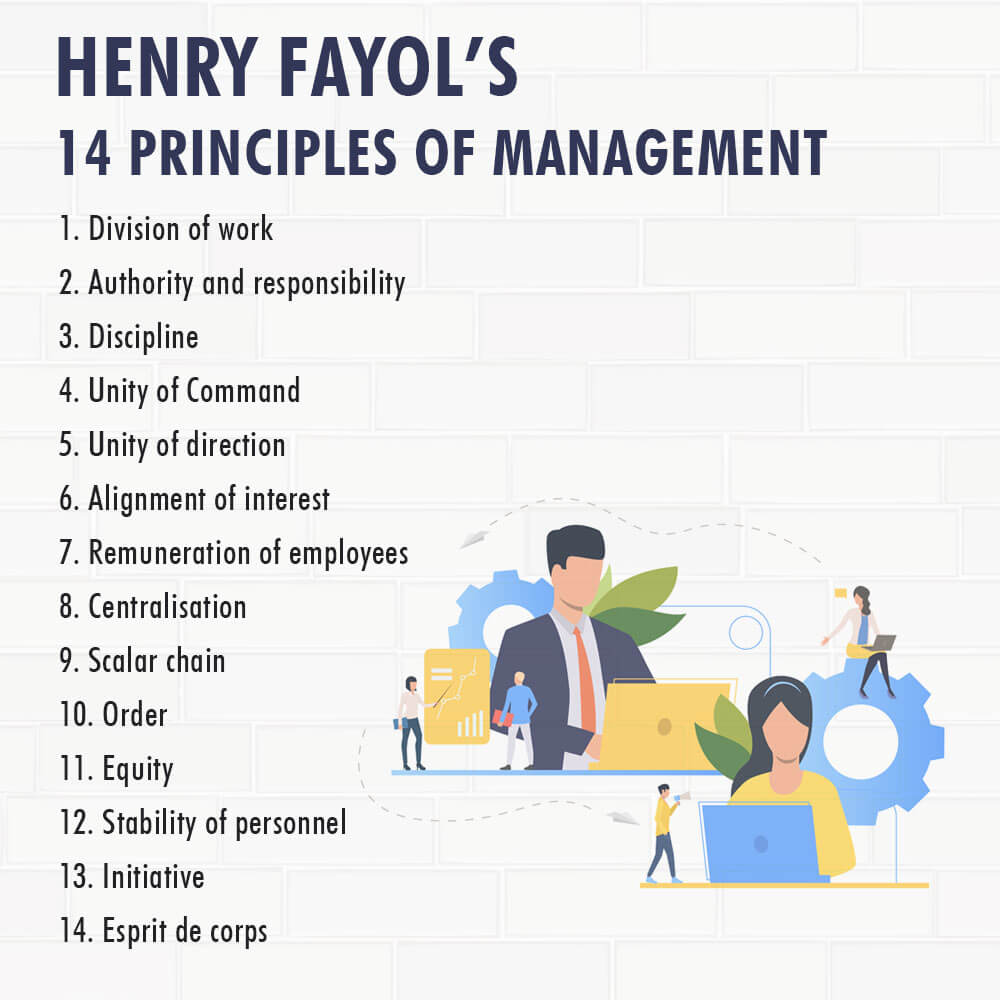 Henry Fayol provided 14 principles of management that are applicable in all the functional or operating areas of business and these principles are:
Division of work

The first principle states that there will be a proper division of work among staff based on their jobs and specialties. Henry Fayol's view related to the division of work was that specialty is important among the staff so that division among departments can be done properly (Bacud, 2020). This clearly shows the view that all jobs cannot be done at the same time and it is better to divide work among staff to enhance efficiency. To illustrate, in an organization there are finance, marketing, HR, etc. departments and each department has specialists trained in their specific verticals to carry on actively and enhance efficiency.

Authority and responsibility

Under this principle, authority shows the right to give order to others and obtain their obedience in any work. Responsibility is the corollary of authority where authority may be official or personal to the manager (Mahindru, 2018). Further, it could be formal where formal authority implies that managers have the authority to command the employees or subordinates to perform their task and informal authority is personal freedom to command or instruct the subordinate where managers take personal responsibility to ensure better performance. In an organization, there is a need to balance authority and responsibility where managers should have the necessary authority to carry on any task responsibly.

Discipline

Fayol observed there is a need for employee discipline and obedience to overcome the human nature of lawlessness at the workplace. This is an organizational disorder and needs staff control to maintain discipline which can be done through defined rules and regulations (Uzuegbu & Nnadozie, 2015). At the same time, Fayol also highlighted there is an external control system in terms of trade unions and staff groups which are getting stronger due to employee participation. However, management can use this system to maintain discipline among staff to facilitate effective time management, cost-saving, and organizational efficiency.

Unity of Command

This principle by Henry Fayol states that the employees must get orders and will be accountable to only one boss. This implies that workers will report to only one immediate superior and no two persons (Bacud, 2020). Orders-cum -directions apply to all workers where no worker can take directions from outside departments and reach their own unit goals of the department to achieve central objectives. This principle is regarded as significant implying that the violation of the chain of command implies undermining of authority and discipline. Furthermore, dual subordination is also avoided because it leads to confusion related to tasks to be done.

Unity of direction

This principle provides an insight on the assertion that all departments in an organization must have their focus towards common objectives and their work must be aligned to the same objectives. It also highlights that there should be unity of action and coordination which means one plan and one head (CMI, 2021). However, Henry also related that this principle might be in contradiction with the unity of command but he clarified that unity of command implies that a subordinate gets orders from superiors where the unity of direction means each group of activities with the same objective must have one head. The command prevents dual subordination whereas direction presents overlapping of activities.

Subordination of individual interest to general interest

Henry Fayol had knowledge that each employee has their own interests while working in an organization and it is necessary that organizational interest should supersede the interests of every other team, stage, or individual in business. However, the employees cannot be forced to do so, and thus, Fayol recommended that the employers should provide a sense of belongingness to employees and invest in staff to align their interests as per organizational requirements (Mahindru, 2018). Moreover, the employees should provide training to help them participate in organizational goals and direct their behavior.

Remuneration of employees

It is required that the payment or compensation to the employees should be fair and free from any forms of discrimination. There should be fair wages so as to ensure a reasonable living standard (CMI, 2021). In addition to it, this principle also states that an organization should have the capacity to make such payments to ensure equitable payments to create good relations with workers.

Centralisation

This principle requires organizations to have a centralized decision-making system and all the decisions should come from top management and then to middle management to convert such decisions into strategies (PRINCIPLES OF MANAGEMENT, 2021). Further, there will be a movement to the line manager to execute such decisions. However, the degree of centralization or decentralization depends on the nature or size of the organization.

Scalar chain

There should be a scalar chain within an organization where there are formal lines of authority from the highest level to the lowest levels. In such organizations, the information, decisions, or communication flows from top to bottom (Bacud, 2020). This shows a formal system where the hierarchy principle is applied and under this hierarchy, top management is at the highest level and vertical partners are followed for communication.

Order

This principle also shows a formal system which means that every material should be in the right position and to assign the right job to the right person (PRINCIPLES OF MANAGEMENT, 2021). It implies that there should be a place for everything and everyone and that everything or everyone should be at their right place to maintain orderliness for maximum efficiency of a business.

Equity

This principle by Fayol is based on the idea that a "good sense of experience is necessary to ensure fairness to all employees" and thus, motivates people to empathize on kindliness and fair behavior within the organization (Ward, 2021). The management should ensure that everyone is equal and there is no discrimination on any account whether it is about racial discrimination, gender discrimination, or any other bias. This principle is also related to principle no. 6 related to individual interest where a sense of fairness and equality motivates employees to be committed to organizational goals even amid ethical dilemmas. In the current business environment, most organizations are based on this principle where MNCs provide equal opportunities to all workers and a home-like environment for organizational success.

Stability of personnel

This principle by Fayol highlights the necessity to recruit the right staff and have a training system or help staff to retain a job for a long time (Bacud, 2020). This is because the experience and knowledge of the staff is a critical success factor for business. In the current year, management focuses on recruiting qualified staff who can be easily trained to perform organizational tasks. Moreover, in the contemporary times of remote jobs that require agile technological literacy the recruitment parameters need to

Initiative

The managers should have the capacity to initiate new ideas and execute them for the growth and success of the organization (PRINCIPLES OF MANAGEMENT, 2021). Fayol also believed that workers must be motivated to take initiative to develop and carry out plans to develop intellectual traits.

Esprit de corps

This principle using a French phrase by Fayol states that an organization should reflect a sense of high morale and unity among staff (Bacud, 2020). There should be understanding, peace, and common determination among organizations to ensure organizational success. Organizations can also initiate various activities under corporate social responsibility to promote high morale among employees.
Application of management principles on Tesla and Walmart
The above discussion provides a brief explanation of each principle of management by Henry Fayol and to analyze the implication of these functions in real business setup, Tesla and Walmart companies are selected for analysis.
Division of work

In the context of Tesla

Tesla has a functional organizational structure under which there is a proper division of work under different functional areas. The work is firstly divided among areas such as finance, operating, production IT, human resource, etc. Further, the managers or officers in these areas of expertise sub-divide work among lower employees. Further, there is a long chain of work divisions in some functional areas such as operations or manufacturing as any company has different sub-units under these functionalities. In the manufacturing function for Electric vehicles, the work is divided firstly among the gigafactories and then based on vehicle models such as Model S, Model 3, Model Y, etc. (Tesla, 2021). There is skilled labor with IT expertise in the manufacturing area so that work can be done easily with great efficiency.

In the context of Walmart

Walmart also follows this principle where the work division is initially done based on country of operations and then on a regional level and then moves to store level. The executive team of the company handles the work division task in their respective expertise areas which is then communicated at the managerial level and to store supervisors so that they can divide work among the employees. There are specific positions for different works which make it possible to maintain performance.

Authority and responsibility

In the context of Tesla

In Tesla, the executives have the authority to form strategies and planning which they can delegate at a lower level based on the business code of conduct. The element of authority and responsibility between the top and middle levels is official and formal based on regulations and rules. However, there can be an informal authority at a lower level among different areas of gigafactories where the managers can give authority to workers based on their skills and take accountability for their work.

In the context of Walmart

Walmart has a team of more than 45 executives who have the authority to make decisions for their respective business units or functional areas. To illustrate: The CEO of Sam's Club which is also a part of Walmart has the authority to assign responsibility under this business unit. In a similar manner, functional officers such as financial officers, IT officers, etc. have the authority to assign tasks and responsibilities to employees in respective departments to get work done (Our Business, 2021). However, in every area when the officers or managers assign authority to other personnel in either formal or informal ways, they are responsible and accountable for the performance of the whole functional area of the business unit.

Discipline

In the context of Tesla

Tesla strictly follows this principle to maintain discipline in all areas of business from top to love level. The company issues rules and regulations under its business code of conduct, corporate governance responsibilities, etc. in order to maintain discipline at its workplaces (Tesla, 2021). To illustrate: the code of business conduct and ethics by Tesla require all members of the company to do the right thing by making compliance with law and regulations. It has strict rules related to insider trading, corporate conflicts management, competition, and fair dealings, etc. which brings discipline in its course of business.

In the context of Walmart

Walmart also follows the discipline principle under its Walmart ethical compliance report where the company is committed to do business in the right way and transfer the same commitment to employees (Walmart, 2021). It has a proactive approach for Anti-corruption, food safety, and quality, etc. to maintain customer interest. It issues a statement of ethics to create values of integrity and objectivity to maintain discipline in a friendly way at the workplace (Governance and Values, 2021). The company makes efforts to make this principle effective by engaging employees through direct communication, feedback, etc.

Unity of Command

In the context of Tesla

It has been analyzed that the unity of command principle is followed at a lower level and among gigafactories where all the workers are responsible to only one supervisor i.e., the manager of the factory. However, there is a lack of unity of command when the authority goes upward where the subordinate is responsible for their performance to different supervisors. This is because of the U-shaped structure where there is a double chain of authority and command. There is a functional-based hierarchy of command which is based on one boss and one subordinate. However, due to the different divisions of Tesla under different product units, there is a dual command in the company. To illustrate: there are main executives in areas of Finance, technology, Engineering, sales, etc. at headquarters or the division level to which the employees are accountable and there is a similar position at a geographical level which implies dual accountability.

In the context of Walmart

In the case of Walmart, there is a complexity of unity of command because the workers at the retail stores are only accountable for their performance to the store manager. Further, the store managers report their activities to geographical region managers and then to the top level. As retail business is the only activity of a company, there is less complexity. However, there is sometimes a lack of unity of command in international business where each business region has its own functional level where the workers are accountable to the managers in the region as well as headquarters as a part of a matrix organization.

Unity of direction

In the context of Tesla

Unity of direction is an important function for Tesla where there is a proper plan for each business and for each model of an electric vehicle or other product areas. To illustrate: the company planned to launch a new electric vehicle and this plan has one head chief engineer or any other role who handles all the tasks, commands workers under the project, and allocates resources, etc. (Tesla, 2021). Moreover, there is a unity of direction in the case of different products manufactured at a single factory where there is one head to handle all production activities of one type of product to reduce complexity and maintain harmony.

In the context of Walmart

Walmart follows this principle where the store manager is the main member who plans and heads the activities for the whole store. He is one who communicates the objectives under the plan and clarifies roles at all levels and among all departments so as to maintain coordination between them to work on the same plan.

Subordination of individual interest to general interest

In the context of Tesla

Tesla's code of conduct clearly indicates that this principle is followed in all areas and among all factories of the company. There is a business code of conduct and ethics that is implied to all the employees and at all levels. It contains policies and rules related to internal tradition, corruption, gifts, and benefits, etc. which mainly shows individual interest, and thus, laws avoid such issues in companies as part of this principle (Tesla, 2021). Moreover, Tesla provides huge opportunities for employees to fulfill their own goals related to professional development through its training programs which is an effective strategy to create job satisfaction and to ensure individual goals do not supersede organizational goals.

In the context of Walmart

In Walmart, there is also a Business code of ethics that encourages all staff members at every level and region to work with commitment, integrity and for the right thing (Our Business, 2021). The company promotes organizational interest among staff through ethical ways where its objectives are based on a cultural foundation. This helps Walmart to keep a check on the activities of employees for personal interest (Walmart, 2021).

Remuneration of employees

In the context of Tesla

The company follows the fair compensation policy where the salaries at different levels are defined. There is an equitable policy where the main executives are paid higher because of their expertise and their value to the organization. Further, the salaries of workers are comparatively lower based on their roles and work skills. The salaries or remuneration of the services are fixed by the agreement between service providers and Collateral Agent. All the remunerations are fixed under the law and to ensure that there is accurate payment.

In the context of Walmart

Walmart also complies with Fair Wages Law by the government where it ensures that employees in all areas are paid well and accurately as per their value generation for the company. The director and executive remuneration or compensation are based on the national laws and the information about this is clearly mentioned under "Corporate Governance- director compensation and executive compensation" under the annual report of the company. Further, the company also believes in fair payments and makes changes in payments based on market changes (Walmart, 2021). A recent example of this is that the company recently announced an increase of wages of 509k which is a step to ensure reasonable payments to workers to sustain their life.

Centralisation

In the context of Tesla

There is centralization of decision making where the CEO Elon Musk along with other members of the board or leadership team have the authority of decision making. All the major decisions of a new business unit, new products or new factories, etc. are taken by the leadership team and executives. Further, there is also centralization of power at the factory level where the manager takes decisions related to work. As this company is based on technology and complex engineering projects, thus, centralization of power and decision-making is kept except sometimes to ensure that all the activities are under control.

In the context of Walmart

In Walmart, there is centralization where top-level management makes all decisions and the heads of units make decisions of their respective unit or functional area. However, there is little decentralization of power for employees so that they can use their skills in the areas of sales and customer services.

Scalar chain

In the context of Tesla

Under the hierarchical and divisional organizational structure of Tesla, it follows a scalar chain because the information flows from top to lower level. The directors and executives communicate all the major decisions through different communication modes to the middle managers and then line managers or staff. The information flows from top to bottom. However, there is also bottom-up communication where the employees have the freedom to share their concerns and ideas with the top-level through the same scalar chain

In the context of Walmart

In Walmart, there is a clear scalar chain where the information and major decisions are made by top managers and the flows to the regional and store managers to staff. There is a clear chain of command and communication starting from the top level at headquarters and flows to all geographical regions (Our Business, 2021). However, there are also sub scalar chains at different regional levels to manage the business at different locations and under different business units.

Order

In the context of Tesla

This principle is also taken seriously by Tesla where it maintains order to recruit employees with the right skills for the right job roles. There is a formal system under which recruitment committees or HR managers have the responsibility to advertise jobs and hire employees for different jobs. Further, the company also maintains orderliness in case of its other material resources where there is a proper supply chain, inventory management, etc. under different departments.

In the context of Walmart

Walmart follows orderliness in all its areas where there are career websites to recruit necessary talent for different functions (Our Business, 2021). There is a supply chain code of document and inventory management system to ensure the availability of necessary material resources. In a similar manner, the managers under other departments such as communication, information technology, etc. ensure orderliness in their respective areas so that all the sources can be combined for enhanced productivity of a business. There is an increased reliance on technology to bring orderliness in functions by Walmart.

Equity

In the context of Tesla

Tesla is highly focused on diversity in its business as an international company where it is committed to engaging people from all communities, cultures, and backgrounds in its functional areas. There are people from Asian, black, Hispanic whites, and other communities in different ratios which shows the diversity and equal opportunity for all (Tesla, 2021). Moreover, the impact report analysis also shows that the company applied Human rights, Anti-discrimination, etc. laws and acts to prevent any kind of discrimination at the workplace and to promote equality and fair treatment. However, it has been also analyzed that this principle is not completely followed as there is a lack of strict behavior and implication of rule because many ex-employees of the company explained about discriminated behavior by colleagues and leaders at the workplace.

In the context of Walmart

Walmart has around 55000 associates all around the world where it welcomes employees from all religions, cultures, and backgrounds in the areas in which it serves. This company also follows equal employment rules where it provides equal career opportunities for all. Moreover, the company also focused on creating a fair and integrated environment for all employees under which it follows the Human rights rules. It is also working on its diversity and pay equity so that gaps can be filled. It also followed Civil Rights Act and Equal Pay Act for equal compensation regardless of gender, race, or other features of its employees

Stability of personnel

In the context of Tesla

Tesla basically recruits employees who are already qualified for different jobs and have technical knowledge of the industry in which Tesla operates. Besides this, Tesla also has an internship program to train the apprentices which may appear to get future workforce ready with the required qualifications. As there is a lack of skilled labor in the market the company is more focused on retaining programs to reduce its recruitment cost.

In the context of Walmart

Walmart hires both skilled and unskilled employees from the labor market based on the different work areas. The company hires a qualified and experienced workforce at managerial positions and also in areas of sales, marketing, customer services, etc. However, as a retail business, it involves roles of warehouse product management, transfer of goods, driving fleet, etc. which do not require any technical skills. Further, the company also focuses on retaining employees at its managerial positions to reduce its HR cost by providing attractive compensation to them.

Initiative

In the context of Tesla

Tesla provides innovative spaces for the employees so that they can have the freedom to develop and implement new ideas. The company highly believes in employee creativity to develop new technology or products for its electric vehicles, solar services, etc. areas.

In the context of Walmart

Walmart does not completely follow this principle where the managers keep the freedom to develop new ideas and implement them to themselves only.

Esprit de corps

In the context of Tesla

Tesla does not completely follow this principle as the company is purely focused on innovation and sustainability for which it needs a team with technical skills to work for the development of new technologies.

In the context of Walmart

Walmart is a company that is based on cultural and ethical values (Walmart, 2021). The company is committed to maintaining integrity and collaboration at all levels and working closely with employees so that better services can be provided to customers.
Five functions of management
Henry Fayol devised a theory of management wherein he divided organizational functionality into different activities such as technical, commercial, financial, security, accounting, and managerial activities where it is said that the first five areas take account of the sixth one in terms of border plans, operate, organize people and coordinate activities, etc. (Shah, 2017). Based on this notion, Henry Fayol provided five functions of management that are mentioned below.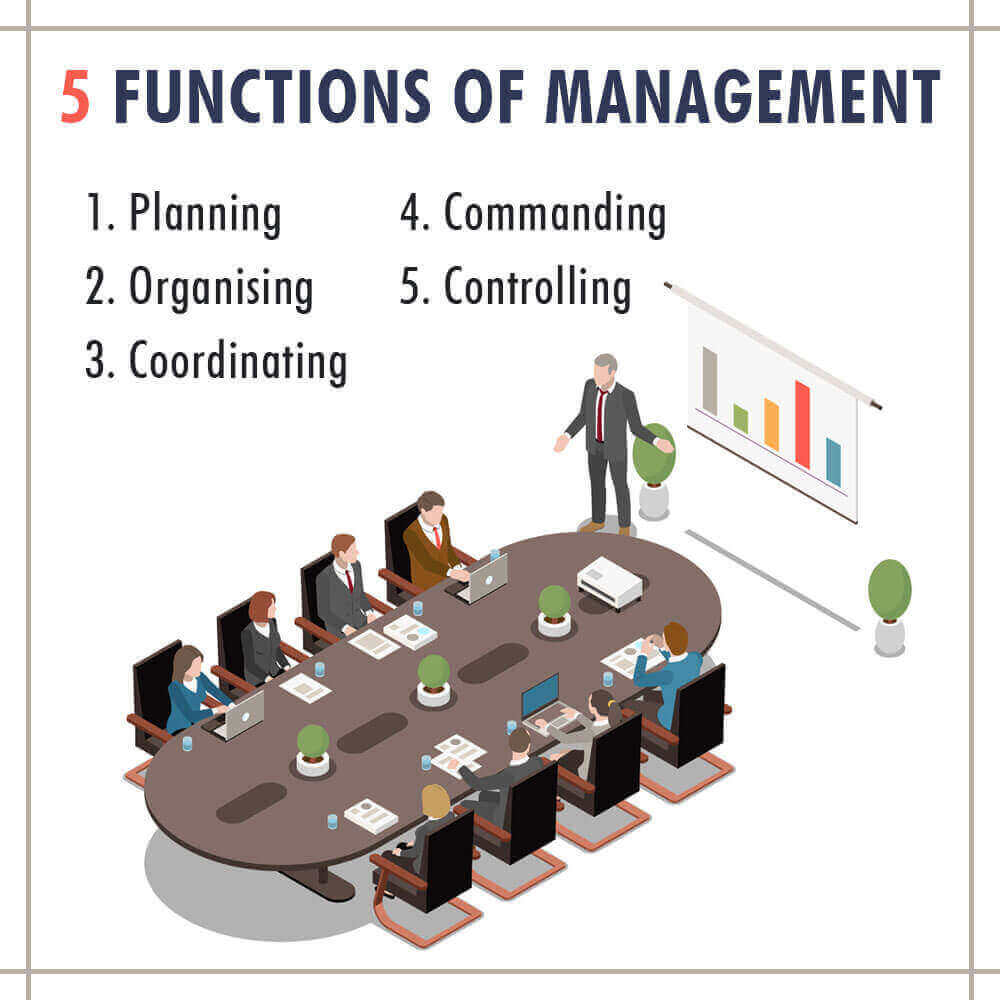 Planning

This function involves looking ahead and thinking in advance. According to Henry Fayol, planning is a critical function because good planning needs active participation and plan related to time, implementation, etc., and ensures coordination at different levels (Functions of Management, 2021). It involves analysis of the current situation, anticipated future needs, organizational goals, and then deciding future activities. However, planning should be flexible and continuous that will benefit organizations over a long period.

Organising

This is a function next to planning where the managers have to assemble and coordinate different resources such as human, financial, physical and information, etc. to execute plans to achieve organizational goals (Shah, 2017). It is much about stepping into specific roles and assigning responsibilities. The organizational duties of a manager, according to Fayol, involve ensuring consistency of resources with objectives, setting up leadership and lines of communication, defining duties and encouraging responsibility, maintaining discipline, and many related duties.

Coordinating

This function involves creating alignment between timing and sequencing of activities along with resources (Functions of Management, 2021). The managers should have the responsibility to harmonize the procedures in every unit and ensure activities in each unit complement each other.

Commanding

It involves clear work instructions by managers to staff and employees should have an idea of what is expected from them. It demands to bring transparency and clarify information to motivate the team and encourage better performance (CMI, 2021). Managers should supervise daily work and continuously communicate goals to ensure up-to-mark performance.

Controlling

This function requires managers to ensure that the activities of the organization are in line with the policies and objectives. It requires managers to analyze deviation and take quick actions to return to standard performance (CMI, 2021). For control, there is a need to monitor progress and compare with standards under planning to analyze deviations or issues. This permits corrective actions with changes in plan execution so that objectives can be achieved.
Application of functions of management on Tesla/ Walmart
Every organization followed these managerial functions in order to carry on its activities under technical, manufacturing, or other activities for business success. The Subsequent section provides a discussion on the application of the above management functions in the business and operational management of Tesla and Walmart.
Application of the functions of management in the management of Tesla

Planning

Tesla followed this function every time the company launched a new electric vehicle model or expanded in new business to obtain its future objectives. There executive team of the company along with CEO Elon Musk. The company planned its activities based on future performance objectives and by analyzing trends in the market. Recently, it announced a planned expansion of the company into Full self-driving (FSD), battery cell, and other technologies. As it is a company with different business units in EVs, solar energy products and batteries, etc. (Tesla, Inc., 2021). Thus, these units form plans separately which are aligned with the common objective of Tesla to change the world through technology and bring sustainability. Further, sub-plans are prepared at its Gig Factories in China, New York, Nevada, etc. to improve manufacturing processes and establish new factories, etc. Financial planning is done by budgeting the expenses and incomes for the following years so that performance objectives can be achieved. Tesla's planning methodology can be better understood through a comprehensive strategic analysis of Tesla.

Organising

The function of organizing is carried on by a board of directors and executives at the top level and then executives of managers at its factories. The Board sets standards for employees, officers and directors as well to fulfill their responsibilities and follow procedures (Tesla, 2021). Further, the resources like finance, HR, material, etc. are managed collectively by the manager by preparing schedules. Further, the officers at gigafactories of Tesla organize all the activities by hiring adequate staff and managing supply chains so that production activities can be continued without any disruption.

Coordinating

The activities at the headquarters and gigafactories of the company are coordinated to ensure that the employees work in the right direction. The CEO Elon Musk takes personal responsibility to ensure coordination and clearly communicate the vision of Tesla. There are formal policies and procedures for coordinating the activities and guidelines for workers to perform their tasks as per description. Moreover, Tesla also has coordination with the suppliers under the supplier code of conduct so that there will be no issue in operations. The executives coordinate with officers or managers at factors which in turn coordinate with workers at factories to ensure smooth flow of activities.

Commanding

The commanding power vest in hands of the leadership team of a company which involves Elon Musk, Zachary Kirkhorn, and Andrew Baglino who are main executive officers that command the other managers at its factories and under the business units. Each Gigafactory and business unit is under the supervision of managers or officers who command the workers in that area for different activities using their authority and empowering employees.

Controlling

The functions of commanding and controlling go hand in hand in Tesla where the budgets are prepared for each business unit which acts as time and cost plans that highlight the performance standards required from each business unit. Based on this, a sub-plan is prepared under each unit to allocate resources for the task. These plans became standards of performance which are measured against the actual performance to take necessary actions. As the main activities carried on by workers, thus, their performance is measured through required performance reviews which helps to know deviations and take actions. Performance reporting is done as part of the HR function to control the deviations in terms of employee performance. Further, the production processes are also controlled using standard plans where the deviations in terms of cost or schedule rate are controlled by executives.

Application of functions of management on Walmart

Planning

Walmart has more than 5100 retail units at the international level and has 550000 associates and to manage it, the company is engaged in regular planning of its activities, supply chain, production, etc. (Our Business, 2021). The board has the main power to plan the bigger deal on behalf of Walmart and then the managers at the regional level control the activities of Walmart in particular regions. There are managers for every geographical region such as the US, Canada, Mexico, UK, etc. that plan for the activities in those areas (Our Business, 2021). Moving further, the sub-planning was done at the store level where the supervisors or managers of retail stores for plans for the store. Thus, there is planning at different levels but it is aligned with the main objective and vision of the company. The boards of directors have the power to plan for future strategies, actions, and objectives for Walmart. The chairman Georgy B. Penner with other members such as Cesar Conde. Timothy P. Flynn, Sarah Friar, Tom Horton, etc., and other dependent or independent directors take major decisions for the company's future (Leadership, 2021). This planning is then converted into strategies for different operational areas and in tasks for different workers at the retail store level.

Organising

The executive team is on which organizes all the resources based on the plans and directions set by the board for the future of the company. The executives are who execute plans by organizing all resources. The Chief financial officer of a company organizes financial resources, the HR manager organizes human resources, the supply chain, and procurement manager organizes material resources, the Chief information technology officer manages technology resources, etc. so that the plans can be executed on time (Leadership, 2021). The organizational structure of Walmart will further facilitate a better understanding of the application of the principles of management within the organization.

Coordinating

This is a critical function for business because Walmart is an international company having its business in around 100 countries which clearly indicates the complexity in coordinating the activities. However, the executives and managers are in the role to maintain coordination. The executive team is responsible to maintain coordination in different functional areas of business where the president and CEO Doug McMillian leads the teams of 46 other members at different levels (Leadership, 2021). The team involved executives of corporate affairs, financial manager, legal officer, technology officer along with CEOs of different divisions such as Walmart US, Walmart International, Sam's Club, etc. They coordinate with vice presidents in all areas such as product officer, Omni strategy and e-commerce officer, chief Merchant, information security officer, etc.

Commanding

The store managers have the responsibility at the retail store level to command the workers of Walmart and supervise their activities. The managers plan their daily tasks and provide schedules so that performance can be maintained. The managers are also responsible for skill development and guidance to employees to maintain standard performance.

Controlling

It has been analyzed that Walmart maintains its controls and procedures under different policies and there is reasonable communication of control actions. There is open communication from management to the lower level to implement control procedures whenever there are deviations in performance. The internal control is done by management through reporting. There is a control integrated framework in Walmart to work upon assessment and controlling the financial performance and employee performance in the company.
Further readings
References
Bacud, S. (2020). HENRI FAYOL'S PRINCIPLES OF MANAGEMENT AND ITS EFFECT TO ORGANIZATIONAL LEADERSHIP AND GOVERNANCE. Journal Of Critical Reviews, 7(11). https://doi.org/10.31838/jcr.07.11.25
CMI. (2021). Henri Fayol Planning, Organisation, Command, Coordination, Control Thinker. Managers.org.uk. Retrieved 31 August 2021, from https://www.managers.org.uk/~/media/Campus%20Resources/Henri%20Fayol%20%20Planning%20organisation%20command%20coordination%20and%20control.ashx.
Functions of Management. (2021). Five Functions of Management (Fayol). toolshero. Retrieved 31 August 2021, from https://www.toolshero.com/management/five-functions-of-management/.
Governance and Values. (2021). Governance and Values. walmart. Retrieved 31 August 2021, from https://walmart.org/who-we-are/governance-and-our-values.
Leadership. (2021). Leadership. corporate.walmart. Retrieved 31 August 2021, from https://corporate.walmart.com/our-story/leadership#board-of-directors.
Mahindru, R. (2018). A Study of Fayol's Principles: Applicability in Today's Organization. Management Today, 8(3), 213-220. https://doi.org/10.11127/gmt.2018.09.01
Our Business. (2021). Our Business. corporate.walmart. Retrieved 31 August 2021, from https://corporate.walmart.com/our-story/our-business.
PRINCIPLES OF MANAGEMENT. (2021). PRINCIPLES OF MANAGEMENT. Ncert.nic.in. Retrieved 31 August 2021, from https://ncert.nic.in/textbook/pdf/lebs102.pdf.
Shah, K. (2017). 5 Functions of Management by Henri Fayol. Linkedin.com. Retrieved 31 August 2021, from https://www.linkedin.com/pulse/5-functions-management-henri-fayol-kalpesh-shah.
Tesla. (2021). Code of Business Conduct and Ethics. Tesla-cdn.thron.com. Retrieved 31 August 2021, from https://tesla-cdn.thron.com/static/KEJJUV_Code_of_Business_Conduct_and_Ethics__rev_12.12.2017_UDJLCE.pdf.
Tesla. (2021). Electric Cars, Solar & Clean Energy | Tesla. Tesla. Retrieved 31 August 2021, from https://www.tesla.com/.
Tesla. (2021). Impact Report 2020. Tesla.com. Retrieved 31 August 2021, from https://www.tesla.com/ns_videos/2020-tesla-impact-report.pdf.
Tesla, Inc. (2021). Tesla, Inc. Annualreports.com. Retrieved 31 August 2021, from https://www.annualreports.com/HostedData/AnnualReports/PDF/NASDAQ_TSLA_2020.pdf.
Uzuegbu, C., & Nnadozie, C. (2015). Henry Fayol's 14 Principles of Management: Implications for Libraries and Information Centres. Journal Of Information Science Theory And Practice, 3(2), 58-72. https://doi.org/10.1633/jistap.2015.3.2.5
Walmart. (2021). Global Ethics & Compliance Program Report. corporate.walmart. Retrieved 31 August 2021, from https://corporate.walmart.com/global-responsibility/global-compliance-program-report-on-fiscal-year-2016/.
Walmart. (2021). Integrity builds trust. English (US). Retrieved 31 August 2021, from https://www.walmartethics.com/content/walmartethics/en_us.html.
Walmart. (2021). 2021 Annual Report. S2.q4cdn.com. Retrieved 31 August 2021, from https://s2.q4cdn.com/056532643/files/doc_financials/2021/ar/WMT_2021_AnnualReport.pdf.
Ward, P. (2021). Management Theory of Henri Fayol: Summary, Examples | NanoGlobals. NanoGlobals. Retrieved 31 August 2021, from https://nanoglobals.com/glossary/henri-fayol-management-theory/.