George Willson | 17 Jun,2020
Outline and structure of Argumentative essay
---
A detailed expedition into the world of Argumentative Essay writing
Assignments are a regular part of your college life. The basic aim of the college assignments is to train you appropriately for the subject in concern. Along with teaching the theoretical concepts of the course, the assignments you get also help you in understanding its practical aspects.
Further, the assignments you get range from essays to presentations and depending on your subject, you may get easy or tough assignments. One type of assignment, which is a usual part of your college curriculum, is the argumentative essay. This is because of the reason that every field has certain debatable topics, on which scientists and researchers are always working upon. By giving those topics as argumentative essays to you, your teachers actually wish to introduce you with the research and also helps you develop a viewpoint for the same.
Additionally, every topic can be presented with varying arguments, which form the part of the argumentative essay. However, before actually penning down the essay, you need to do a thorough research of the topic. This prior research aids you magnificently in collecting the respective material of the argumentative essay.
Place your assignment order right now!
Also, you should remember that for writing a compelling argumentative essay, it is important for you to read the various perspectives on the same and even form an understanding of the opponents view. This step, though is time consuming but can prove to be highly beneficial for collecting material for your task.
A brief on the Argumentative essay outline
Before moving to the actual writing process, it is important for you to structure your content first. This works as the foundation stone of your assignment and shows you a way forward of excelling in your college assignment. Further, the outline of the argumentative essay has to be very much accurate so that you do not face any difficulty in writing the essay further.
This section will detail three basic outlines, which are generally used by essayists for writing argumentative essays. These three outlines can be highly useful for you to complete your essay assignment and score high in your college.
Outline 1
Write the Introduction/ Thesis Statement of your essay

First Body Paragraph: In this you need to write your first point of the essay well supported by the evidence.

2nd Body Paragraph: This is the part which will carry your second point of the essay along with the evidence to support it.

3rd Body Paragraph: Now, here you are required to refute the first point of your opposition.

4th Body Paragraph: Moving further, this section will cover the refutation of the second point of your opposition.

Conclusion: At the end of the essay, you must conclude your essay properly. Also, you should relate it well with the thesis statement, so as to give a finishing end to the essay.
Outline 2
The first step remains the same, that is to write the introduction. In the introduction of your argumentative essay, you must include the thesis statement, which claims your take of the essay.

Body Paragraph 1: This is the point, when you can refute the first point of your opposition. While refuting the opposition's view, make sure that you put forward the valid points and should not just hayway talk about the situation.

Body paragraph 2: Here you can present the second point of refutation for your opponent.

Body paragraph 3: Here comes the step to present your first point with its supporting evidence. These points are important to be showcased along with strong and credible facts.

Body Paragraph 4: This step marks the mention of your second point along with the validation point.

Conclusion: This is the final touch to your essay, where you need to simply relate your essay points back to your thesis statement.
Outline 3
Introduction: This is the same part as other outline structures, wherein you are ought to introduce your topic of the essay. Additionally, you are also supposed to mention the thesis statement of your essay in the very beginning of the write-up.

1st body paragraph: In this structure, you need to mention your first point here, in a way that it refutes one main point of your opponent.

2nd body paragraph: In the same manner as you did your first point, explain your second point refuting the second main view of your opponent. One important thing in these body paragraphs is that you must not forget to write the evidence that positively stands for your view points.

3rd body paragraph: Moving forward, in this paragraph, you are required to mention your third main point, which again should reflect refutation to your opponents view. As the above paragraphs, this should also be well presented with a valuable and valid argument.

Conclusion: The last section of your essay should reflect back your thesis in a much assertive way. Also, the conclusion should very ardently speak about the points you have already mentioned in your argumentative essay.
Quickly order an Essay assignment with Assignmenthelp4me!
Running short of time? Do not worry!
Send assignment task file through whatsapp! Just Click Here
So the above mentioned outlines are a great source for you to plan your argumentative essay right. However, if you still feel, you are confused about writing the argumentative essay, then you can without a doubt place a quick order with us. We, at Assignmenthelp4me, assure to be your content partner forever.
Moving further, the next section is meant to clarify all your doubts on the understanding and conceptualisation of an argumentative essay. After going through our following section, you will be left with no doubts and would definitely be able to solely handle your college assignments, demanding you to write long argumentative essays.
How to write an Argumentative essay step by step
Now, is the time to clear out all your confusions, so better take out your pen and paper and make your notes. This section can be highly resourceful for you and help you appropriately in completing your essay.
Before starting off, first and the most important thing, you need to stick to your mind is that writing an argumentative essay is no rock climbing, it is just that you need to maintain concentration levels while drafting it. In fact it is an interesting task which you can accomplish successfully by following a step by step writing procedure, which has been discussed right below for you:
Understanding the format
The first and foremost step of the procedure is to understand the format of an argumentative essay. It comprises three basic elements namely, the purpose, methodology and the desired outcome. So, to master in the art of writing an argumentative essay, you need to first become crystal clear about what these elements mean and include.
The purpose of an Argumentative essay

The purpose of an argumentative essay is to explore the different facets of your topic in a detailed manner and then present the readers with your opinion about the issue. So, writing an argumentative essay requires you to conduct an extensive research about the topic. Although, you have to touch every facet of the research work in your essay but your main emphasis should be to familiarize your readers with your opinions and also you should clarify why you think your viewpoints are right.

The methodology of an Argumentative essay

In order to draft a good argumentative essay, you have to adapt yourself to the actual methodology of essay writing. It simply involves introducing the readers with the different facets associated with a topic and then guiding them to the light of a definite conclusion.

The outcome of an Argumentative essay

The outcome of an argumentative essay is to convince the readers that your opinion or viewpoint about the issue is valid and righteous. So, make sure to have a definite conclusion of your essay in your mind, before commencing with the writing procedure.
Selecting an issue to write on
'Selecting an issue to write on' is the second part of the procedure which you have to follow while writing an argumentative essay. This again forms a very important step, because if you personally do not feel about a subject and you are not aware of the details, then you would surely not be able to relate to it. So here are some important points which you should take care of while selecting the topic.
Select something which goes well with the format

As an argumentative essay involves taking a stand on an issue, so it is crucial for you to select a topic which is debatable. Otherwise, if you select a topic which isn't arguable, it will become hard for you to find opposing views and thus, your argumentative essay will lose its purpose. For example, writing an argumentative essay on the topic- 'Junk food is bad for you', is not a good idea because it may get really hard for you to find good opposing views on this issue.

Make sure to select a topic which intrigues your curiosity

as discussed above, argumentative essays involve a lot of research work and thus, are often lengthy in writing. So, you have to make sure to select a topic which interests you as well. Otherwise, it will get really hard for you to carry on the research and writing work, without the element of your interest.

Test your stance on the topic

In order to write a nice argumentative essay, it is vital for you to have a strong stance on your opinion. Having a strong stance means that you have the ability and required evidence to convince the readers that your opinion is rational. Now, to know the strength of your stance on the topic, it is good to discuss your argument with your family or friends.
Note: In order to derive best results, try discussing your argument with someone having an opposite stance on the topic.
Structuring your Argumentative essay right
Taking the tour further, now is the time to learn to structure the essay. As you know, structuring your argumentative essay in a proper manner is extremely important. The information given below, will help you in organizing your essay in an effective format.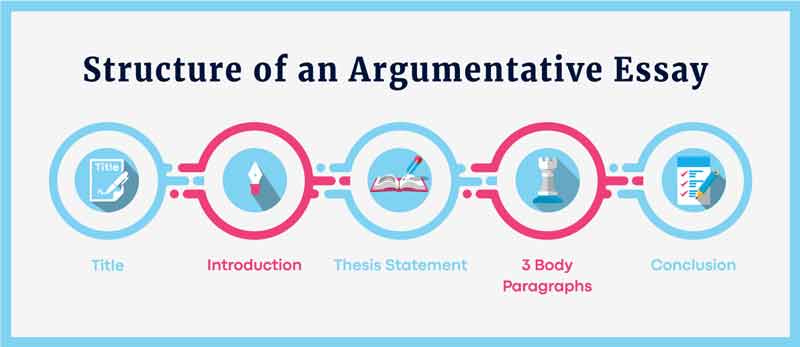 Introduction

An appealing title: The title of your essay is the first thing which the readers come across. So, it is extremely important for you to formulate the title in such a way that the readers get captivated to read your essay and find out what you have to say. This implies that the title of your essay should be extremely appealing in nature. Along with this, it is also important to formulate the title in a unique and creative manner. This further enhances the strength of your essay title.

A nice introduction

The introduction of your argumentative essay is intended to familiarize your readers with the topic of your essay by explaining it to them in brief. It is always good to write the introductory paragraph in an interesting, simple yet influential manner.

A clear and concise thesis statement

After completing the introduction, you have to start working on the thesis statement of your essay. A good thesis statement gives your readers an idea about your views on the topic in a brief manner. It also clearly highlights the significance of your opinions about the topic. To sum up, your thesis statement should give your readers a clear and concise idea of your stand on the topic.

An informative body of the essay

The body of your essay includes all the information which you have gathered from your research. It is through the content of the body that you have to make your readers aware about different opinions which are centered around the topic, and then emphasize on what your thoughts for the same are. Also, you have to present different evidence in support of your opinions in the body of your essay. Thus, you should draft the body of your essay in such a way that it helps the readers get familiarised with different aspects of the subject, but mainly emphasizes on your viewpoint.

A proper conclusion

This is the final structural component of your argumentative essay. It involves restating your opinions about the topic of discussion, and then persuading your readers that your viewpoint is completely rational and righteous. For this, you have to restate the main points which support your opinions, again in the conclusion.
Note: Do not introduce any new concept in the concluding section of your argumentative essay.
Embedding your research sources
Once you are done with the writing of the essay, the next step is to validate the information you have given. Thus, you need to take note of it that your argumentative essay cannot achieve fulfillment until and unless it is embedded with authentic research sources. Also, this is done so as to give the credit to all the people whose ideas you have utilized while formulating your argumentative essay. For instance, if you have included some quotes in your argumentative essay, then you should cite the names of the authors and the sources from where you found the quote, at the end of the respective sections in parenthesis.
Editing and Proofreading your Argumentative essay
This counts as the final step to writing your argumentative essay assignment. This not only ensures a thorough completion of your draft but also helps you omit all the unnecessary mistakes, which could have led to cutting down your assignment grades. Thus you can assure an error- free essay with the following steps:
Read your essay thoroughly and stay watchful of grammatical errors: It is quite common to make some grammatical errors while formulating a lengthy argumentative essay. However, it is vital for you to eliminate all these errors before submitting your essay. So, once you have completed your essay, you have to read it thoroughly and eliminate any grammatical errors which catch your attention.

Ensure proper citations: While proofreading your argumentative essay, you should also make sure that you have properly cited all research sources.
Furthermore, during the course of completing your assignment, if you need any kind of help, just drop us a mail or contact us. We, at Assignmenthelp4me, would be highly obliged to serve your need and work as a guiding source for you.
In either of the cases, you should not forget, argumentative essays are often time demanding, therefore prove to be an exhaustive exercise. Thus, dividing your assignments into proper parts can aid you in writing a fool proof assignment and can further fetch you high grades from your college professor.